Tyrone Golden Eagles Can't Outlast Bald Eagle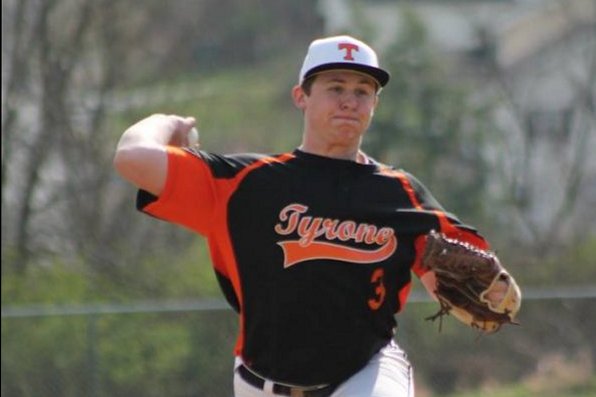 Hang on for a minute...we're trying to find some more stories you might like.
Friday evening the Eagles looked to break a three game losing streak as they visited Mountain League foe Bald Eagle.
The Eagles played great ball going into the third inning. Pitcher Matt Brenneman held Bald Eagle scoreless until a few errors in the frame pushed two Bald Eagles home.
Tyrone responded well with scoring two runs of their own off of a single by Hunter Jackson and a gap shot by Brian Gunter. Jackson and Gary Weaver (walked) would advance to score.
Another great defensive inning gave Tyrone the opportunity to take the lead. The Eagles had several solid hits but none fell through the defenders and the game stayed tied at 2-2 until disaster struck. With the chance to get two outs the Eagles committed several errors to load the bases.
The Bald Eagles hit two back to back doubles and triples to clear the bases and jump to a 6-2 lead.
Tyrone would go on to score one more run in the 6th inning but allowed three more runs off relief pitching.
Tyrone drops to 1-6 overall but will look to grab their second win Saturday and next week full of games.  
BOX SCORE
Bald Eagle Area: 10
Tyrone: 3
TYRONE (3): G. Weaver cf 300, Gunter rf 402, Soellner 2b-1b 400, Politza lf 200, Brenneman p 300, Robinson 2b 000, Hunter ss 301, Focht 3b 110, Jackson 1b-p 312, Lehman c 210. Totals – 25 3 5.
BALD EAGLE AREA (10): Guenot ss 500, Butterworth cf 423, Chambers 1b 300, Gill, 1b 111, Scoabrick rf 322 Bell c 422, Onder 2b 411, Juzefick dh 311, Ejan p 000, Eminhizer 3b 210, Barnak lf 301, Gates lf 100. Totals – 33 10 11.
SCORE BY INNINGS
Tyrone: 002 010 0- 3 5 3
Bald Eagle Area: 005 005 X-10 11 0
About the Contributors
Anthony Politza, News Editor
Hello! My name is Anthony Politza and this will be my first year on the Eagle Eye staff although I'm a senior here at Tyrone High. I play soccer, basketball,...