Tyrone FFA is ALL IN
Tyrone Area FFA members took part in the Pennsylvania FFA virtual ALL-In Conference on April 12-13. ALL stands for Advocacy, Leadership, and Legislation.
"I liked how we were still able to do a conference for FFA even though there's COVID. I also liked how the workshops talked about standing up and taking action about a cause that we care about to better our surroundings," said junior Emma Bartel.
The two-day conference was split into two tracks. The blue track was for freshmen and sophomores, while the juniors and seniors experienced the gold track.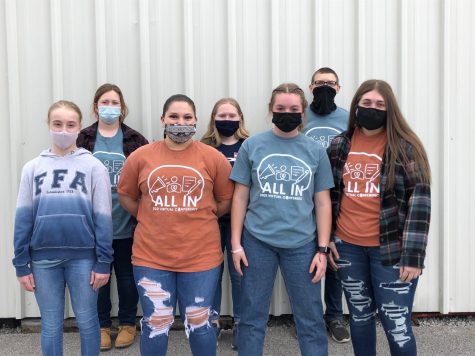 Before entering the virtual workshops, members were part of the FFA opening session and re-converged for the closing session.
Each member received a conference package which included a workbook, sunglasses, stress ball, hand sanitizer, notebook, pen, and earbuds.
In the gold track, workshop one was called "Stand UP!" and encouraged participants to discover their passions, choose a cause to advocate for, and learn to stand up for what they believed in. Workshop two "Taking Action" was to teach members how to advocate for their selected causes.  In workshop three "FFA & My Future" participants explored skills and experiences gained by being involved in FFA. Workshop four, "PA Law and Order," led members to experience the ins and outs of the Pennsylvania Legislative System.
Blue Track Workshop one was called "Discovering You" and students explored the meaning of advocacy as well as develop an awareness of their strengths and passions in relation to their future. In workshop two, "Uncovering the Need," members worked as a team to discover causes they were passionate about and how to use those passions to solve real-world problems.
"It was nice to have some type of normalcy in this crazy year and to be able to attend the ALL-In Conference," said sophomore Jenna Weyer.
Tyrone Area FFA is open to all agricultural education students. For more information about the program, please contact Tiffany Hoy at [email protected] or 814-684-4240 ext. 3131.
Leave a Comment