Tyrone Drafting Class Goes 3D
Thanks to a grant and the leadership of a Tyrone teacher, students at TASD are learning 3D printing.
Classes in high school can sometimes seem a little boring and two-dimensional. Thankfully, one teacher at Tyrone Area School District made his class a lot more three-dimensional through the cutting-edge technology of 3D printing.
TAHS physics and drafting teacher Bryan Gruber has reimagined his computer-aided drafting class as an introduction to the emerging technology of 3D printing.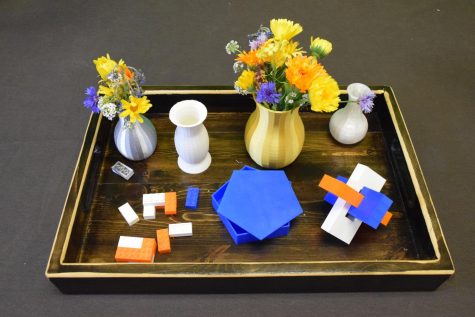 "What I enjoy most about the class is the creativity," Gruber said. "And the fact that some students don't give up. It's difficult with printing small objects because the CAD drawing must be perfect, and students will persist until they make it right."
The 3D printing equipment was initially obtained by the school district through a grant. They were able to purchase 10 Dremel 3D printers, five for the elementary school and five for the high school.
Gruber was asked to find a way to work them into his middle and high school curriculum.
He soon realized that five units were not enough for a full class of students, so the district was able to purchase seven more to increase the total to twelve, allowing more students to utilize the technology.
Gruber's drafting class gives students a chance to use their creative minds to build the shape of a three-dimensional object on drafting software and then see the project through to a finished physical product.
The class engages students through hands-on activities and teaches real-world problem-solving skills.
"I like the class because it's new and fun," said sophomore Chase Carothers. "My favorite project was [making] the Lego brick."
"
What I enjoy most about the class is the creativity."
— TAHS teacher Bryan Gruber
Thanks to access to this technology, Gruber's students get to learn engineering, as well as many other skills from the class.
"The idea that students think of something, make it, and then get to keep it, sets the class apart from others," said Gruber.
The class was first offered in 2019 but got off to a rocky start due to the pandemic. While the class was remote from home, students did not have physical access to the technology.
However, Gruber was able to keep his students working while staying within the social distancing requirements.
"We did all of our projects from home," said Gruber. "They designed it [from home], I printed it, and I left the finished project at the office. They weren't allowed in the school, but they could still stop in the office and pick things up."
This year is the first since the pandemic started that school is back to normal, and Gruber is finally able to teach the curriculum that he intended.
The students begin by designing and printing their own common household items such as cookie cutters, keychains, vases, Christmas ornaments, and travel games.
According to Gruber, the eighth graders have been very creative in designing keychains this year.
Eventually, the students get to design their own projects, and Gruber is looking forward to seeing what his students will come up with next.
"
I like the class because it's new and fun. My favorite project was [making] the Lego brick."
— Sophomore Chase Carothers
Leave a Comment
About the Contributors
Rocky Romani, Staff Writer
Rocky Romani is a junior at Tyrone Area High school and is back for round three of his third year in Eagle Eye. In Rocky's free time he enjoys playing...
Allison Beeman, Staff Writer
Allison Beeman is a Junior in High School, and it is her second year of Eagle Eye. Most of her time is spent at the softball field or hanging out with...