Tyrone Borough Council Adds New Member; Discusses Reservoir Park Improvements
Tyrone Borough Council selected a new member to fill the vacancy left by the current interim mayor William Latchford at its regular monthly meeting on Monday, September 11.
The board elected borough resident Terry Richardson, 62, to council on a six to zero vote.  Richardson has experience on council, having previously served for four years.
Among the issues that Richardson would like to address is the lack of recreational activities for youth in Tyrone.  He is concerned that many of the borough's youth are leaving Tyrone for the Northern Blair County Recreation Center and would like to see that change.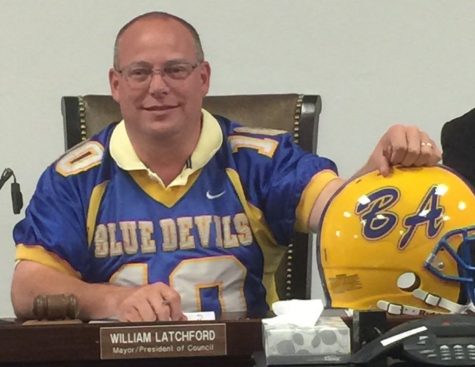 He also pledged to serve as a voice of the citizens of Tyrone.  "I vote my way…vote the people's way," said Richardson.
In other business, Parks and Recreations Committee representative Robin Latchford stepped forward with some proposed changes to Reservoir Park.
The first and perhaps largest change is the addition of ice skating on the Reservoir Pond in the winter, if the ice is thick enough to safely accommodate skating.
If the pond is not open to ice skating this winter an alternative idea was suggested. The idea is that an in-rink water liner be added to the roller hockey rink this winter so that when the water freezes an ice rink that is possibly safer will be available to the public.
In response to these ideas, council woman Michelle Miller said these are "tremendous opportunities," and it will help to, "bring families together."
As well, the council approved keeping Reservior Park park open from 7 am-7 pm year round. However, after 3 pm the park will not be "full service," meaning electricity and fire pits would not be provided.
Mayor Latchford also stood by his word and wore a Bellwood-Antis football jersey after Bellwood beat the Tyrone Golden Eagles in overtime during the first week of the 2017 season.
The Neptune Steam Fire Company was awarded a grant to pay for a three year lease in their current fire hall at 1701 Lincoln Ave.
Finally, council set the date of the annual Halloween Trick or Treat for October 26th and the Halloween Parade will be held on October 28th at 4 pm.
View Comments (1)
About the Contributor
Devon Henninger, staff writer and videographer
Hey bub, I am a senior (Big Cheese, I know) at Tyrone Area High School. Currently, I am a part of the Blair County Young Republican (unofficially) and...