Tyrone High School FFA members recognized at PA Farm Show
Five Tyrone FFA members were among the 387 Pennsylvania FFA leaders to receive their Keystone FFA Degree and three first year members received their FFA jackets at the 100th Pennsylvania Farm Show and the 87th State FFA Mid-Winter Convention in Harrisburg.
Tyrone Area High School was represented by more than 40 students, parents, and guests at the convention. During the two hour event, attendees shared stories about how agriculture and FFA have positively impacted and changed their lives.
The Tyrone Chapter's five senior representatives were Carly Crofcheck, Katrina Hagenbuch, Brandon Decker, Baylee DelBaggio and Elizabeth Conrad. They all received their Keystone Degrees, the highest degree one can receive at the state level.
To earn this recognition, students must earn and invest $1000 and/or work 299 hours during their agricultural education program. They must also complete a minimum of 2 years or 360 hours of an agricultural education program, be a senior in high school, and complete so many activities at and above the chapter level. Students also must complete community service hours in two different areas to receive the degree.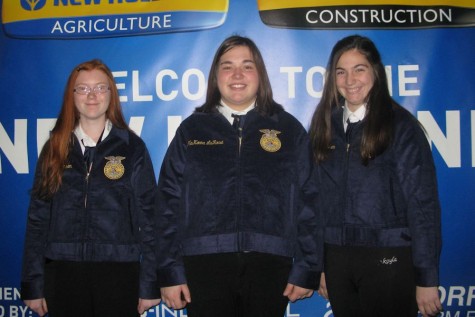 "I know I complain to Mrs. Hoy about having to keep records, but with her guidance and persistence I completed my books and earned my degree," said Decker, "Keeping records is really a life skill and in FFA we are rewarded by being recognized through degrees and proficiencies; even scholarships. It was so exciting to walk across the stage and hear our members cheer as our names were announced."
Samuel Conrad Jr. and his wife, Dana received special recognition for having three children earn their Keystone FFA Degrees, Amanda, Alison, and now Elizabeth.
"It has been an honor to work with the Conrad family for the past four years and to see them being recognized at convention," said Tiffany Hoy, Tyrone Area FFA Advisor, "This family goes back generations of family members receiving their Keystone FFA Degrees and wearing the iconic FFA jacket. I'm hoping that in the next two years, the family will be recognized again when their youngest child, David Conrad, earns his Keystone FFA Degree."
First year FFA members Skyler Thompson, Sierra Robison and MaKenna LaRosa received their blue corduroy FFA jackets, sponsored by the Pennsylvania FFA Alumni. In October they had to complete an online application in which they reflected upon what the iconic jacket met to them and how they would represent the organization in the future.
"It is an honor to receive this jacket and to have my name on the front is amazing," said Thompson.
The jacket may only be worn by students who are in good standing with the National FFA Association and are enrolled in an agricultural education course.
"I'm very proud of my students and their accomplishments. It truly is an honor to serve as their advisor and to be engaged with their families on these journeys," said Hoy.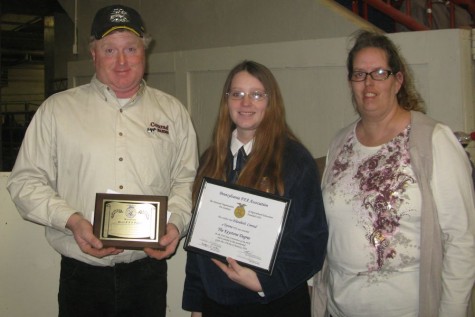 Leave a Comment
About the Contributor
Carly Crofcheck, Social Media Director
My name's Carly Crofcheck. I've been in the Tyrone Eagle Eye for four years and I'm a Senior at TAHS. Last year I was the Editor in Chief, this year...