Tradition vs. Caution: Local Thanksgiving Plans Altered by COVID19
With COVID positive tests on the rise this holiday season many families are struggling with their usual holiday plans, like whether to go to grandmother's house or invite elderly family members to dinner. The pandemic has brought a whole new set of problems to the normal holiday traditions.
The Center for Disease Control (CDC) discourages family gatherings this year due to rising COVID cases. This leaves Americans with a difficult choice: tradition versus safety.
A nationwide survey conducted by the global data and survey firm Dynata at the request of The New York Times found that only 27 percent of Americans plan to celebrate Thanksgiving with people outside their household.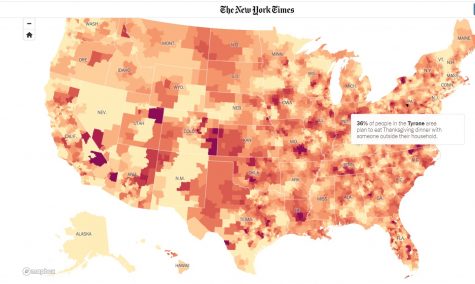 Locally, the survey said that 36% of Tyrone families plan to dine with guests from outside of their immediate family.
Those numbers seem to be in line with the plans of Tyrone students and their families.  Most of the students interviewed said that their Thanksgiving dinner was going to be smaller this year.
One local family who says they are taking no chances is the Lewis family of Tyrone.
Todd and Marcie Lewis have eight children, which means that having their immediate family sit down for dinner almost exceeds the CDC recommendations to limit gatherings to ten people or less.
Many of the Lewis children are grown and living in different areas and different states, so the family has chosen not to be together this Thanksgiving.
"It is the first time in my lifetime that we will not be able to have the entire family at Thanksgiving," said Marcie Lewis.
Last year the Lewis family hosted around thirty-five people on Thanksgiving. This year it is severely cut down to keep everyone safe.
"Although not everyone will be there, we are still planning on doing the same traditions we do every year," said Lewis.
"
It is the first time in my lifetime that we will not be able to have the entire family at Thanksgiving"
— Marcie Lewis
Tyrone social studies teacher Cummins McNitt hasn't seen his son in about eight months due to the pandemic. The McNitts have also decided that as much as they hate to miss a family holiday together, now is not the time to risk spreading the virus.
Health officials have warned that the next couple of months will be difficult for Americans and that social distancing over the holidays will be key to limiting the spread of the virus.
But not everyone agrees with the CDC guidelines. Some families, like the Barrs of Tyrone, simply won't let Covid ruin their holiday plans.
The Barrs are keeping their Thanksgiving plans the same as in the past, with extended family planning to gather for the holiday.
With all of the disruptions to school and work, some people just want a normal holiday in spite of this crazy year.
"We are going to enjoy our Thanksgiving the same as every year before, with friends and family," said Tyrone junior Jason Barr.
View Comments (1)
About the Writer
Dean Grassi, Assistant Sports Editor
Dean Grassi is a hard working guy and fun to be around. He spends his days in Tyrone High by playing Football, Wrestling, and Tennis and is going into...