Tracking the Coronavirus in Pennsylvania
You cannot turn on the television or look at social media without seeing new reports or statistics about the COVID-19 pandemic. While there are still many unknowns and plenty of differing opinions, according to the Department of Health (DOH), as of May 25th, Pennsylvania has had 67,713 total cases.
One thing to take under consideration however is this total is an estimate because it includes "probable cases" as well.
These are cases that are not officially tested but doctors have diagnosed due to the onset of similar symptoms. This is a result of a lack of Covid-19 tests available not only in Pennsylvania but nationwide as well.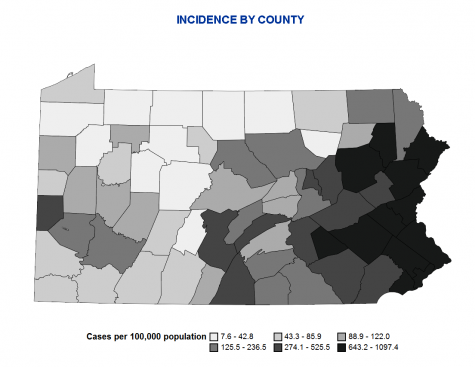 Of those 67,713 cases in Pennsylvania, 5,124 have resulted in a fatality.
Fortunately, of the 2,467 people tested in Blair County, there have only been 46 confirmed cases and only 1 reported death.
Pennsylvania has also had a total of 328,382 tests come back negative.
The incidence by county data is calculated by dividing the current number of confirmed and probable COVID-19 cases reported to the Department of Health by the county population data available from the Bureau of Health Statistics.
The counties are divided into six relatively equally-sized groups based on their incidence rate. Cases are determined using a national COVID-19 case definition.
Ultimately, without more widespread testing there currently is no way to estimate the true number of infected persons. Incidence rates are based on the number of known cases, not the number of true infected persons.
According to the DOH, 60% of the people who tested positive in PA have recovered. Individuals who have recovered are determined using a calculation, similar to what is being done by several other states. If a case has not been reported as a death, and it is more than 30 days past the date of their first positive test, then an individual is considered "recovered".
"
"We all need to do our part to help stop the spread of the coronavirus. The time to do this is now. We cannot wait""
— Governor Tom Wolf
Governor Tom Wolf believes it's every Pennsylvania citizen as well as every American citizens' responsibility to help end this pandemic.
"I strongly encourage the statewide suspension of large gatherings, events, conferences of 250 individuals or more and discourage people from traveling to recreational activities such as gyms, movie theaters, and shopping malls," Governor Wolf said. "And while people are free to travel, I ask that everyone refrain from non-essential travel.​ We all need to do our part to help stop the spread of the coronavirus. The time to do this is now. We cannot wait."
During this pandemic it is important to remember to follow the guidelines provided by the State in order to avoid the spread of Covid-19. Be sure to wear your masks, wash your hands, and maintain social distancing.
For up to date reports on the COVID-19 Pandemic, click here.
About the Contributor
Elise Brooks, Staff Writer
Hi! My name is Elise Brooks and I'm a senior this year at Tyrone Area High School. This is my first, but also my last year in Eagle Eye. This year I am...