Third Quarter Bison Run Dooms Eagles
The Tyrone boys played three-quarters of solid basketball at Clearfield, outscoring the Bison in the first, second and fourth quarters. Unfortunately for the Golden Eagles, Clearfield still secured a 61-59 win over the Golden Eagles on the strength of a 22-6 run in the third quarter.
The first period was tight with Clearfield coming out hot early but Tyrone rallied to end the quarter with a four-point lead that they were able to stretch to seven by halftime.
But Tyrone came out of the halftime break flat, making a lot of fundamental mistakes that allowed Clearfield to work its way back into the lead in the third quarter.
Tyrone found itself in foul trouble early in the half, allowing Clearfield to run up the score with foul shots and gain possession of the ball.
Tyrone also missed a lot of one-pass shots, rather than running through the play options looking for the open shot.
Clearfield's Miller got hot in the third, on his way to a game-high 25 points.
Tyrone's leading scorer was senior Zac LeGars with 19 points, followed by 15 from senior Ross Gampe.
After being down by 9 points going into the fourth, Tyrone knew they needed to step up their game. Sophomore Sam Crilly hit a 3 early in the fourth quarter, allowing Tyrone to get its confidence back and work its way back into the game.
With three seconds left and just a 2-point deficit, sophomore Ashton Walk made a full-court pass to Crilly for the final shot of the game. Though double-teamed, Crilly took the shot, but it bounced out for a final score of 61-59 Clearfield.
BOX SCORE
TYRONE (59): Walk 4 3-3 11, Escala 1 1-2 3, LeGars 8 0-0 19, Gampe 5 4-9 14, Crowell 3 0-2 7, Crilly 1 0-0 3, Lehner 1 0-0 2. Totals–23 8-16 59.
CLEARFIELD (61): Miller 9 5-7 25, Greslick 3 0-0 8, Billotte 3 2-2 10, Patrick 1 0-0 3, Way 1 0-0 2, Kushner 1 0-0. 2, Lopez 2 1-1 7, Pallo 0 2-2 2. Totals–20 10-12 61.
SCORE BY QUARTERS
Tyrone 18 21 6 14 — 59
Clearfield 14 18 22 8 — 61
3-point goals: Tyrone 5 (LeGars 3, Crilly, Crowell); Clearfield 9 (Miller 2, Greslick 2, Billotte 2, Lopez 2, Patrick).
Leave a Comment
About the Contributor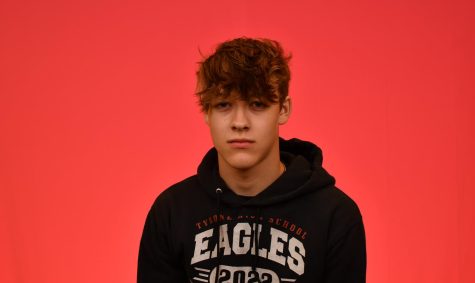 Damon Brueggert, Staff Writer
Damon Brueggert is a sophomore at Tyrone Area High School. This is his first year in Eagle Eye. Damon plays basketball in his free time. He enjoys listening...