The Look Ahead: St. Marys
Tyrone has one more regular-season game tonight against St. Mary's from district 9 before the playoffs start.
Tyrone has played the St. Mary's Dutch before, but the two teams haven't met in recent years. Even though the game is out of conference for both teams, it is not meaningless for the Golden Eagles.  Tyrone is looking for a win to secure home-field advantage for the first game of the D6 playoffs. 
St. Mary's brings a talented quarterback and receiving corps that has accumulated 2416 passing yards on the season. However, the forecast is calling for heavy rain, so it could come down to the running game for both teams.
The Dutch have had an average running game for the year: 674 total rushing yards (74.9/g), and their leader is Justin Dornsich (#25) with 89 att., 328 yards, and 6 touchdowns. Following him up in the backfield is Matt Davis (#5) with 55 att., 322 yards, and 2 touchdowns. Quarterback Christian Coudriet (#14) has added 5 touchdowns on the ground, but only 77 yards. 
The Flying Dutch have a balanced passing game with three talented wide receivers and a top notch quarterback. Christian Coudriet (#14) is 181-274 with 2416 yards and 22-4 touchdowns to interceptions ratio.
The leading receiver for the team is Logan Mosier (#33,) with 47 receptions, 807 yards, and 8 touchdowns. The next man up is Carter Chadsey (#17) with 45 receptions, 640 yards, and 7 touchdowns. Charlie Coudroet (#11), the younger brother of the Dutch quarterback, also has 44 receptions, 640 yards, and 3 touchdowns. 
Tyrone looks to shake up their passing game with defensive ends Jake Johnson and Ross Gampe bringing a lot of pressure, along with the Patterson twins at linebacker coming up the middle.
St. Mary's has a very aggressive defense, running a lot of cover-1 and cover-0, leaving vulnerable areas for 1 on 1 coverage with Ross Gampe and Cortlynd Rhoades. 
Leading tacklers on the defense are Conner Straub(#88) with 88 tackles and Logan Mosier(#33) with 67 tackles. With turnovers, the Dutch have 14 interceptions and 8 fumble recoveries. 
They also have 32 sacks on the season with Alex Lukas Kunis(#71) being the team leader with 9.
This week could potentially be the last game on Grey field of the season. The kickoff is 7 pm.  The game will be live-streamed on the Eagle Eye YouTube Channel.
Leave a Comment
About the Contributor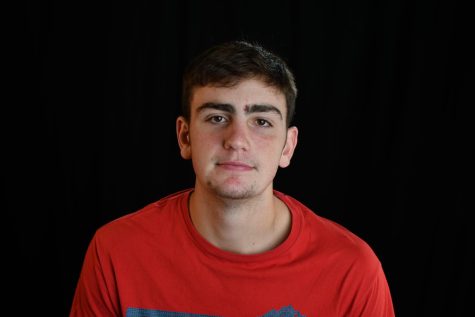 Keegan Gwinn, staff writer
Keegan Gwinn is in his first year in Eagle Eye, and is also a senior. His interests and hobbies are golfing, and sports. Plans after high school are to...