The Look Ahead: Philipsburg-Osceola
This week Tyrone will play its third home game in three weeks against Philipsburg-Osceola.
Like last week's opponent Brookville, the Mounties have some big linemen up front.
Fortunately for Tyrone, the first two games have proven that the offensive and defensive lines are much better this year than last.
PO has a very large defensive tackle that will cause problems up the middle for center Gavin Woomer. Woomer's game has improved from the first game to the second and hopefully will keep improving this week.
The line will need to protect their passer this week to keep the offense rolling. In just two games, quarterback Ashton Walk has thrown for 357 yards and five touchdowns through the air.
Four of those five touchdown passes were to Ross Gampe, who has made big play after big play for the Eagles. Gampe has 9 receptions for 194 yards so far on the season.
The Eagle defense pitched their first shutout of the season last week, and look to stifle PO's running game.
Again, this goes through the line, but senior linebackers Nathanial and Joshua Patterson have been making most of the stops up the middle, getting over 20 tackles combined.
PO will look to run the ball with their quarterback Ben Gustkey, who averages 68 rushing yards in two games. PO's backfield has three more players with over 50 rushing yards on average. PO's game will consist of a lot of motion in the backfield to trick the defense.
Tyrone can counter the misdirection by reading their keys and paying attention to how the linemen block, which is a major tell to where plays go.
PO is also coming off of a close loss to conference rival Huntingdon and could be looking to make amends for the loss.
Despite PO's record, Tyrone cannot underestimate their opponent, especially considering that they are the first conference team they will face this year.
Tyrone still has plenty of penalty issues to clean up, and need to come out of the locker room strong to show that they can play with a level head.
Tyrone and PO will kick off at 7pm on Friday, September 9th at Gray Memorial Field.
Leave a Comment
About the Writer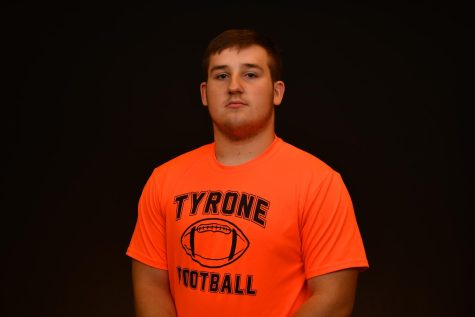 Dylon Brower, Staff Writer
Dylon Brower is a senior in his third year of Eagle Eye who enjoys giving an inside view into the locker rooms of the sports he plays. Dylon is someone...