The Look Ahead: Penns Valley
The Golden Eagles are coming off a disappointing loss at home vs. Bald Eagle Area last week on Homecoming night. Tyrone played a very solid defensive and special teams game, but their struggling offense could only put 7 points on the board, as the Golden Eagles uncharacteristically gave up a fourth-quarter lead, losing 15-9.
This week Tyrone will try to turn things around on their Senior Night against the visiting Penns Valley Rams.
If the Golden Eagles can get their run game going, which struggled last week with 22 carries for only 22 yards, it should open up their passing game and help the Eagles to put points on the board.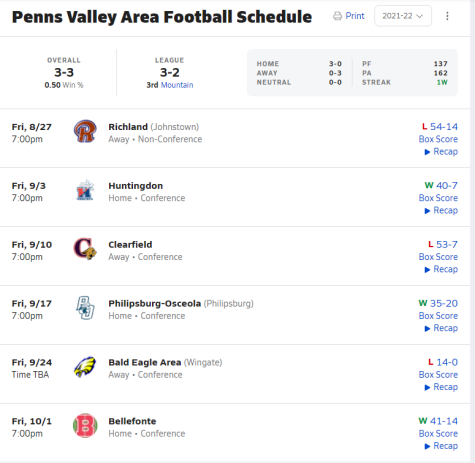 The Tyrone defense is also hoping to capitalize, after having their best game of the season last week against BEA. In that game, the Golden Eagles had six sacks and a safety in the third quarter from junior Ross Gampe.  The Tyrone defense only gave up 159 total yards to BEA.
Penns Valley is currently 3-3 and 3-2 in the Mountain League. The Rams, similar to the Golden Eagles, are a young team, having graduated numerous starters from last year's squad.
Key returners on the offensive side of the ball for the Rams start with their veteran offensive lineman Scott Hess (#77), Owen Miller (#67), and Gavin Ryan (#51).
The Rams like to spread out opposing defenses with a lot of sweeps, and they are also not afraid to air out the ball.  Statistically, the Rams are almost perfectly balanced on offense, with 643 total rushing yards and 664 total passing yards through six games.
Their leading rusher is senior Ty Watson with 245 yards rushing on the season. Watson averages an exceptional 6.8 yards per carry and also leads the team in touchdowns with three.  Senior tailback Tanner Ilgen is the Rams next leading rusher with 191 yards on the season.
The Rams leading receiver is junior Miles Brooks with 18 receptions for 207 yards and a touchdown.  He is the only Penns Valley receiver currently with double-digit receptions, but Penns Valley does like to spread the ball around. There are nine other PV players with at least one reception on the season.
Senior Rylee Brungart is the primary quarterback. His passing numbers are 34 for 67, and 351 yards so far, but he has only one passing touchdown. Brungart has also rushed for 53 yards on the season.
On defense, Penns Valley runs a 4-3 and likes to bring pressure on the edge moving into a 50 look upfront.
But the Rams defense has been suspect this year, giving up a whopping 54 points to Richland, 53 points to Clearfield, and 14 points to BEA – all in defeat.  In their three wins, they still gave up an average of almost 14 points per game. If Tyrone can execute offensively, they should be able to shake their scoring blues against P-O.
Some of the key players on the Rams defense are senior middle linebacker Rylee Brungart with 35 tackles and 5 for losses, junior linebacker Hunter Lyons, who leads the team with 37 tackles, defensive lineman Scott Hess with 28 tackles, and 9 for losses, and senior linebacker Tanner Ilgen, with 22 tackles.
Last year Tyrone upset Penns Valley 27-21 and is hoping to repeat that on Friday.
Leave a Comment
About the Contributors
Keegan Gwinn, staff writer
Keegan Gwinn is in his first year in Eagle Eye, and is also a senior. His interests and hobbies are golfing, and sports. Plans after high school are to...
Ellie Oakes, Editor in Chief
Ellie Oakes is in her third & final year as a member of the renowned Eagle Eye News staff. As a senior, she is hoping to make her last year of high...