The Look Ahead: Bald Eagle Area
The undefeated Tyrone Golden Eagles go into the second half of their season undefeated but they will face their biggest test so far with a home game against Bald Eagle Area tonight.
The Golden Eagles are coming off of a scary win against Huntingdon where offensive troubles continued. Quarterback Ashton Walk made plays when it mattered, scoring two touchdowns, but only threw for 67 yards on 7 completions.
The Tyrone running game was shut down as well, with only 106 yards on the ground. Tyrone's total offensive yards were 177, not the typical good stat line they are used to this year.
Tyrone's offense will need to get rolling against a very good Bald Eagle team. While their record maybe 2-3, they are much better than it shows. Bald Eagle is 2-1 in the Mountain Athletic Conference, and their only loss within the conference was a close 7-3 loss against Clearfield.
Bald Eagle has a fairly even split between running the ball and passing the ball. So far, they've thrown the ball 121 times for 71 competitions and 860 yards through the air. They rushed the ball 115 times for 605 total yards.
Tyrone's defense has played outstanding in the first five games of the season and will have to contend with Bald Eagles leading rusher Tre Greene, who has 38 carries for 385 total yards. Tyrone has done well stopping the run this year, only letting up 83 last week on 37 attempts. This averages out to 2.3 yards per carry against Huntingdon.
Bald Eagle's leading receiver is Kahale Burns, who has 26 receptions for 354 yards and 3 touchdowns.
The Golden Eagles normally shut down the pass this year, but last week they let up a 55-yard touchdown pass for Huntington's only score of the night. Outside of that play, Tyrone's defense succeeded in shutting down the pass, only letting up three more catches on the night.
Tyrone's offensive line play has taken a decline last week, with the Eagles getting no headway on the ground or the air. This will need to take a step up against Bald Eagle.
Bald Eagle has a very good defensive end, Camron Watkins, and Tyrone's tackles, Jimmy Fogelman and Caleb McKinney are going to have their work cut out for them.
Tyrone plays at home this Friday, and it will also be the homecoming game. The game will kick off at 7 pm at Gray Memorial Field.
Leave a Comment
About the Writer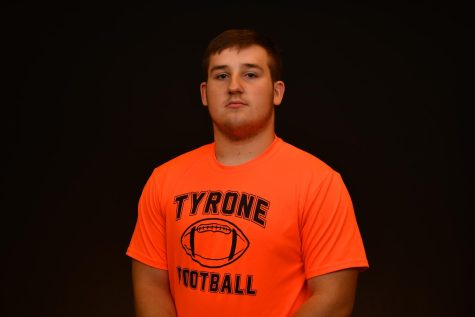 Dylon Brower, Staff Writer
Dylon Brower is a senior in his third year of Eagle Eye who enjoys giving an inside view into the locker rooms of the sports he plays. Dylon is someone...