Kensinger Named Guest Juror for 22nd Annual Tyrone Art Show
The 22nd Annual Tyrone Art Show will be held in the Tyrone High School gymnasium on April 21st from 1 to 4 pm, with the awards ceremony being held at 2:15 pm.
This year's guest juror is Tyrone Class of 2002 graduate and award-winning wildlife artist, Michael Kensinger.
"
Through my art and writing I aim to inspire others to fall in love with and protect our natural world which needs our protection now, more than ever,"
— Michael Kensinger
Kensinger is a self-taught wildlife and nature artist who works in a variety of mediums including watercolor, gouache, acrylic, charcoal, and pen and ink.
He was also one of the first standout artists taught by current Tyrone High School art instructor Eric Feather when he began his career at TAHS.
Not surprisingly, Kensinger was the winner of Feather's very first TAHS Art Show in 2001 with a duck stamp design that he also entered into the PA Junior Duck Stamp competition.
Feather still remembers the many hours Kensinger put into his artwork.
"Michael was so focused on improving his skills and learning the techniques necessary to get his artwork on the same quality level as past state winners. He is a great example of what someone can accomplish with a combination of talent and persistent effort. I'm so happy to see him return to Tyrone High School as this year's juror."
Kensinger is now a contributing writer and illustrator for Pennsylvania Outdoor News and Pennsylvania Wildlife Magazine.
Recently his talent earned statewide recognition as the winner of the Pennsylvania Game Commission's annual Pennsylvania Waterfowl Management Stamp contest for 2021.
Kensinger has been entering the contest since he was a middle school student and was very happy to be named the winning artist.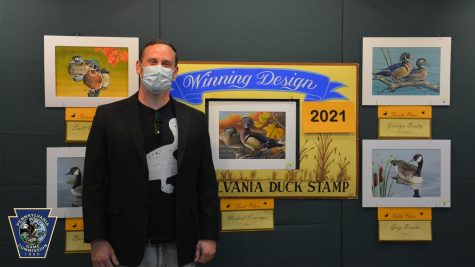 Kensinger received a $4,000 cash prize for his winning entry, as well as 100 artist-proof prints, and 200 stamps. He also had the opportunity to serve as a judge for the next state stamp competition.
"Although this is my first win, I continue to enter duck stamp contests on both state and federal levels," he said. "I enjoy competing with my paintings and look forward to supporting these vital conservation programs each and every year."
Kensinger's love for wildlife art began as a child and was encouraged by several of his teachers in the Tyrone Area School District.
"I received honorable mention [in the PA Duck Stamp competition] for my age group in sixth grade, honorable mention state-wide in 11th grade, and finally Best of State in 2002," Kensinger recalled. "My 2002 painting of blue-winged teals went on to the national level of the Federal Contest and took the top 10 in the nation. It toured the country, and I believe was even in the Smithsonian for a couple of weeks."
When he is not creating art, Kensinger is doing conservation work.
He adopts a mitigated wetland where he helps all kinds of animals, along with being permitted to wildlife capture and transport injured wildlife to rehabilitation centers.
"Through my art and writing I aim to inspire others to fall in love with and protect our natural world which needs our protection now, more than ever," said Kensinger.
To see more of Kensinger's work, visit his Facebook or his Etsy page.
Kensinger will judge entries at the 2023 Tyrone Art Show on April 21. All Tyrone Area School District students and the public are welcome to attend this event.
Because of the ongoing auditorium renovation project, this year's art show will be held in the high school gymnasium.
Prizes for the Art show will be awarded to the top five works in the following categories:
First place overall will receive a $100 cash prize, second place will receive $80, third place will receive $60, fourth place will receive $40, and fifth place will receive $20.
An additional monetary award will be given for excellence in creativity and for the top three dimensional piece.
Finally, eight merit awards which will be given to two students in each grade.
Leave a Comment
About the Contributor
Olivia Berrena-Barr, Staff Writer
Olivia is a senior at Tyrone Area High School.  This is Olivia's first year as an Eagle Eye staff member. Olivia is an outgoing, friendly girl who spends...