Teacher Of The Week: Mrs. Tracy Redinger
Whether she is teaching world cultures or organizing one of YAN's many annual events, social studies teacher Tracy Redinger always puts her students first. Affectionately known as "Mama Red" by many of her students, she is a true asset to the Tyrone Area School District.
Eagle Eye: Why did you become a teacher?
Tracy Redinger: I had several influential social studies teachers in high school and found that teaching was something I would really enjoy. I always wanted to work with older students and be able to teach interesting topics that would intrigue and inspire them.
EE: Why did you choose the subject you teach?
TR: My dad and I have always enjoyed history! I especially like studying about other regions around the world and have a passion to tell the story of others! I like to get students to consider what it is like to live in other places and the beauty and challenges that come with that.
EE: What's your favorite thing about teaching at Tyrone?
TR: I love teaching with the staff who works at our high school! The teachers, paras, police staff, secretaries, administrators, and countless others are wonderful people to work with every day!
EE: What are some of your favorite hobbies and interests?
TR: I love to go camping; I like to take pictures and travel; I enjoy my 2 cups of tea daily, and I love hanging out with my family!
EE: What is some good advice you've been given as a teacher?
TR: Stay organized and try to keep one step ahead of the kids!
EE: What's the hardest part of teaching and why?
TR: The hardest part for me is sometimes caring too much whether it be about student success, getting all of my plans perfected, or keeping up with new trends to stay relatable (which can be especially challenging for anyone who tries to help me keep tech-savvy).
EE: What are some jobs held before you got into teaching?
TR: I lasted an entire day at KFC while in high school. I worked at my sister's gift shop. I spent two summers working in the curator's department of the Altoona Railroaders Memorial Museum during my college years.
EE: What is something that students might be surprised to find out about you?
TR: Although this will make me sound ancient, I was on the first all-girls soccer team at Hollidaysburg High School and was team captain my senior year.
EE: What's your favorite movie?
TR: Top Gun: Maverick and anything that is action-packed!
EE: What is your spirit animal? Why?
TR: I suppose I would be a koala bear because I like to be a mama bear to my biological and student kiddos, but I like to relax and be snuggly (like a bear) with my cup of tea, lounge on the couch, and watch a good movie.
View Comments(1)
About the Contributor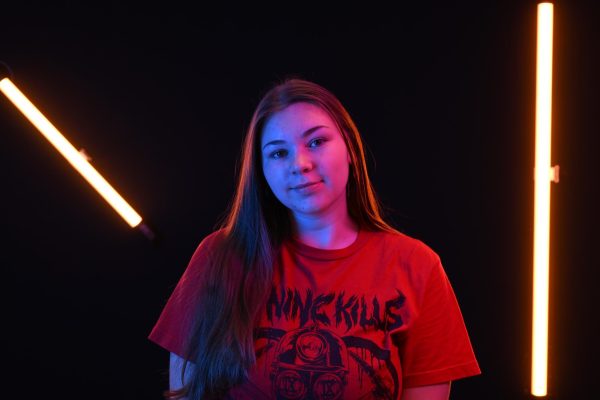 Fabria Brower, Staff Writer
Fabria typically publishes the Teacher Of The Week articles here at Tyrone, but outside of her life in the Eagle Eye room, she enjoys spending time out...