Teacher of the Week: Mrs. Staci Greenleaf
Mrs. Staci Greenleaf is a special education/learning support teacher in the high school.  Greenleaf's students describe her as a very kind-hearted and loving person. She helps keep all of her students organized, helps them with their academics, and makes sure all her students feel seen and understood.
Greenleaf is excited to welcome a baby girl to their family in July.
Thank you Mrs. Greenleaff for all that you do!
Eagle Eye: Why did you become a teacher?
Staci Greenleaf: I knew I wanted to be a teacher ever since I was little. I used to play "school" with my younger sister and I always had to be the teacher. As I got older, my dream of becoming a teacher grew stronger because I knew I wanted to make a difference and have the chance to make a positive impact on the lives of others.
EE: Why did you choose the subject you teach?
SG: I originally went to college to become an elementary teacher. I landed my first job as an elementary learning support teacher and fell in love with special education.
EE: What's your favorite thing about teaching at Tyrone?
SG: I feel so blessed to teach at a school with such a tight-knit community. The students and coworkers in my classroom have truly become my second family. I love that the staff and students here are so supportive of one another. We are there to support each other through life's hardships and celebrate one another's major life milestones!
EE: What are some of your favorite hobbies and interests?
SG: I enjoy spending time with my family, shopping, working out, and walking my dog, Liam. Right now, my biggest interest is getting ready to welcome our baby girl in July!
EE: What is some good advice you've been given as a teacher?
SG: The best advice I have received is to be flexible. Things are constantly changing and you never know what new surprise may pop up. You have to be open-minded and willing to go with the flow.
EE: What's the hardest part of teaching and why?
SG: The toughest part of teaching is the empathetic distress. We become so emotionally invested in our students' well-being that it becomes difficult not to feel what they are feeling. When they are struggling, it's hard not to take that home and worry about them constantly.
EE: What are some jobs held before you got into teaching?
SG: I worked retail at Abercrombie in Monroeville Mall. I also taught dance for several years.
EE: What is something that students might be surprised to find out about you?
SG: I grew up dancing competitively since age three and was on my college dance team.
EE: What's your favorite movie?
SG: Seven Pounds
EE: What is your spirit animal? Why?
SG: I have to go with a dog because they are loyal, protective, patient, trustworthy, and love unconditionally.
Leave a Comment
About the Contributor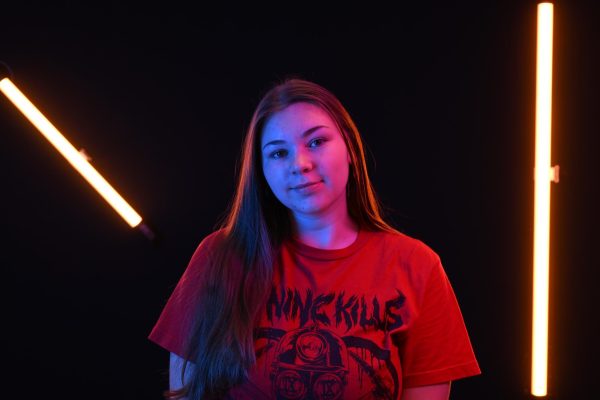 Fabria Brower, Staff Writer
Fabria typically publishes the Teacher Of The Week articles here at Tyrone, but outside of her life in the Eagle Eye room, she enjoys spending time out...