Teacher of the Week: Mrs. Lindsey Kanuch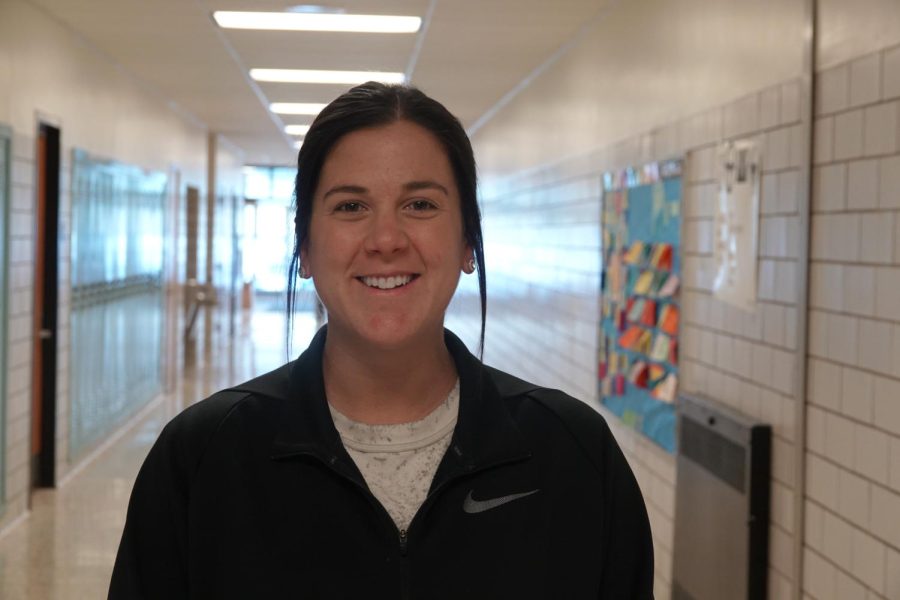 Two weeks ago Mrs. Lindsey Kanuch lifted Tyrone's spirits by organizing a school-wide volleyball tournament. Kanush is a very inspiring and overall positive person to be around.  Thank you for all you do at Tyrone Area High School. We are lucky to have you as part of the team!
Eagle Eye: Why did you become a teacher?
Lindsey Kanuch: I became a teacher because I always loved working with kids when I was younger, volunteering at sport camps or church events. I love that teachers can have a positive impact on their students' lives and teach them lessons that go beyond the classroom. I knew I always wanted to be a coach too, and being a teacher allows me that opportunity as well!
EE: Why did you choose the subject you teach?
LK: I chose to teach PE because I have always loved being active and participating in different sports. I love that my subject can help a student develop healthy lifelong habits and have a huge impact on them even after they graduate. And getting to dress comfy every day isn't a bad perk either!
"
Always be kind to your students because you never know what "battles" they may be dealing with."
— Lindsey Kanuch
EE: What's your favorite thing about teaching at Tyrone?
LK: I love the size of the school and how it reminds me of the high school I went to. When I subbed here last fall, it felt like "home" and I was hoping I could someday get a job here. I love how friendly the students and staff are and how welcoming everyone has been in my first year!
EE: What are some of your favorite hobbies and interests?
LK: I love working out, being outside, traveling to the beach as much as I can, baking, going to Penn State football games, and spending time with my family and friends
EE: What is some good advice you've been given as a teacher?
LK: Always be kind to your students because you never know what "battles" they may be dealing with.
EE: What's the hardest part of teaching and why?
LK: The hardest part of teaching is feeling like you are not able to help and "reach" every student. It's so tough when you feel like you aren't doing enough to get a student motivated or to help them improve their skills.
EE: What are some jobs held before you got into teaching?
LK: Before I got into teaching I was a waitress at Olive Garden, worked at an ice cream stand over the summers, and was a campus tour guide at my college.
EE: What is something that students might be surprised to find out about you?
LK: I am terrified of moths and butterflies
EE: What's your favorite movie?
LK: Sweet Home Alabama and The Grinch
EE: What is your spirit animal? Why?
LK: I feel like my spirit animal is a dog. They are friendly, energetic, and kind, and they love a good nap.
Leave a Comment
About the Contributor
Fabria Brower, Staff Writer
Fabria typically publishes the Teacher Of The Week articles here at Tyrone, but outside of her life in the Eagle Eye room she enjoys spending time out...