Teacher Of The Week: Mrs. Dawn Whited
Eagle Eye: Why did you become a teacher?
Dawn Whited: When I was in college, I volunteered in a first-grade classroom in Bellefonte and LOVED it! I remember listening to the classroom teacher read, "Junie B. Jones," to her students and they were so engaged. Her lessons were fun and you could tell that she cared about her students. She inspired me to become a teacher.
EE: Why did you choose the subject you teach?
DW: I taught first grade for 19 years and absolutely loved it. After volunteering in the first-grade classroom during college and loving it, I felt like it was fate that I was able to teach first grade at Tyrone. When the 5th-grade position opened up, I felt ready for a new adventure. Last year I taught reading and science because I am passionate about those subjects. In fifth grade, we have partner teachers and mine wanted to teach reading this year, so I now teach math and science. Math is marvelous!
EE: What's your favorite thing about teaching at Tyrone?
DW: I love the small community of Tyrone. They have so many activities at school and around town. I'm originally from Altoona and never experienced this. I'm so glad that my family lives here now and is able to participate in all that Tyrone offers. The students that I teach become family, and I have made many new friendships through these amazing kiddos. I have also been very lucky to teach with amazing colleagues. I have worked with many amazing paraprofessionals and could not have done my job without them. My first-grade and fifth-grade teams have been supportive and fun. I truly love coming to school each day. It's always a new adventure!
EE: What are some of your favorite hobbies and interests?
DW: I LOVE to read. If I could, I would read 24/7. I also enjoy traveling, swimming, gardening, sewing, and camping.
EE: What is some good advice you've been given as a teacher?
DW: Mrs. Friday, my first-grade mentor teacher, told me that my family comes first. Teaching is important, but I also need to make time for my own family.
EE: What's the hardest part of teaching and why?
DW: The hardest part of teaching is balancing the different learning needs of my students. It can be difficult to meet the individual needs of 20+ students, however, we have a great support system at Tyrone. Administration, the school board, colleagues, support staff, and parents all have a common goal. We want our students to be successful and we are all working together towards this goal.
EE: What are some jobs held before you got into teaching?
DW: When I was 15, I started working at Show-Biz Pizza, which is now Chuck-E-Cheese. I mostly worked as a cashier, but occasionally had to dress up as the mouse. I hated working the ticket counter because it was before the automatic ticket counters. I also worked at JCPenney, Eat-N-Park, Dunkin Donuts, TJ Maxx, and the HUB at Penn State.
EE: What is something that students might be surprised to find out about you?
DW: My students might be surprised that I took a year off after high school. I did not have any plans to go to college. When I woke up, I was the first person in my family to graduate with a bachelor's degree. I actually wanted to be a lawyer but thought it would take too long. Meanwhile, I went to college for 7 1/2 years because I have a business and teaching degree.
EE: What's your favorite movie?
DW: Legally Blonde. I love Elle Wood's desire and determination to achieve her goals.
EE: What is your spirit animal? Why?
DW: I'm not sure that I have a spirit animal. However, I am known for my love of ducks. I collect them and keep a pile in my classroom. Students are always giving me ducks and they just make me happy!
View Comments (2)
About the Contributor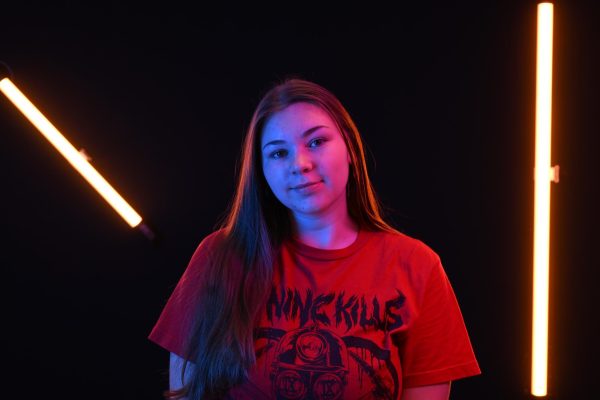 Fabria Brower, Staff Writer
Fabria typically publishes the Teacher Of The Week articles here at Tyrone, but outside of her life in the Eagle Eye room, she enjoys spending time out...