TAHS Freshman Win FFA T-Shirt Design Contest
Freshman Emily Watson and Kylee Shaffer worked as a team to create a design for an FFA t-shirt competition back in March. Although they weren't expecting their design to win, it did.
Watson said she wasn't expecting to win because their design wasn't very detailed and they submitted the design a little late. Shaffer wasn't expecting their design to get chosen either, saying that although she likes the design they made- she wasn't very confident in it at first.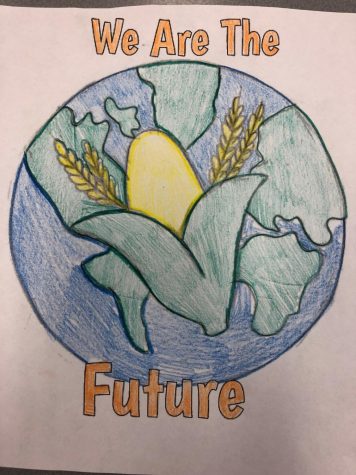 The girls decided to work on the project together because they're friends and they both have a passion for art and FFA. They wanted their design to include the earth to represent the impact that farmers and FFA has on the planet.
"We really wanted to enter a quote into the mix, we also wanted the design to be a little corny, wink wink," said Watson.
Shaffer agreed adding, "We decided to add a corn cob and wheat  to represent agriculture."
"FFA is important to me because we are the future, we are the ones who are going to lead and create a new world and economy," said Watson.
Shaffer hopes that the t-shirts will help to raise awareness of the importance of agriculture and FFA.
"FFA is important to me because there aren't many people involved in agriculture anymore, so it makes me happy that the FFA is helping to make that change," said Shaffer.                 
Tyrone middle and high school art teacher Deanna Mazurak also had kind words to share about the girls.
"Kylee and Emily are extremely hard-working art students. When they asked me to team up for this design competition, I had very high expectations for their work. I am very proud of what these girls accomplished, and I cannot wait to see their design on the new FFA t-shirts. They deserve the recognition," said Mazurak.
View Comments (2)
About the Contributor
Maggie Parks, Staff Writer
Hi, my name is Maggie Parks. Usually I am a photographer and staff member for the TAHS yearbook, but this year I decided to try my hand in writing for...