TASD to Collect Donations for Soldiers Deployed Overseas
Download a list of needed items below. The drive ends on Nov. 16.
After a one-year hiatus, a charity that Tyrone High School has been involved in for over a decade is back.
Operation Support Our Soldiers (S.O.S.) of Duncanville is kicking off their 12th campaign to help make the holidays a little brighter for American troops who are stationed overseas.  During the last project two years ago they were able to send 503 holiday care packages to soldiers serving in the  25th Signal Battalion who were stationed in Afghanistan. The group has not yet targeted a specific group for their 2016 campaign, but will be choosing one soon.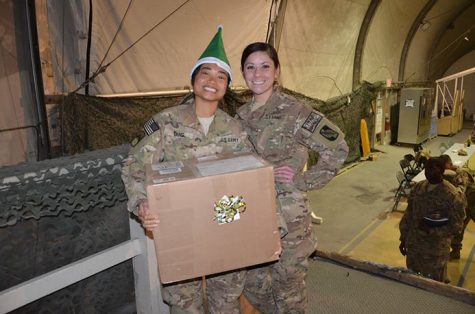 In honor of Veterans Day, the Tyrone High School Social Studies Department will collect items for Operation SOS.  All classes and grade levels at TASD are welcome to participate.
Donations will be accepted until November 16th, so make sure to get your supplies in before then.
Because of strict rules on what can be shipped by air, the list of items that can be donated is very specific.  Click the link below to download a PDF of eligible items:
operation-s-o-s-school-letter-2016
The list includes most types of packaged food or preserved food including popcorn, dried fruit, jerky, protein bars/granola bars, drink mixes,  tea/coffee boxes. Glass bottles/jars, and canned items will not be accepted.
Students are also encouraged to write letters or send cards to the troops.
The collection begins on November 4th, and will run until November 16th.
All supplies collected will be sent to local troops who had to leave the comfort of their homes to defend our freedom.
Leave a Comment
About the Contributor
Noel Politza, Sports Editor
My name is Noel Politza. Most people call me Dicky. I am a senior at Tyrone High. My favorite color is green and my favorite subjects are science and math....