Ski and snowboard club now under district eligibility rules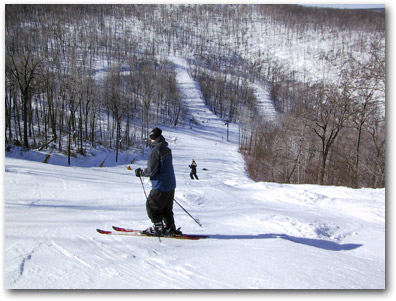 Beginning this season Tyrone Middle and High School Ski Club members must meet the same eligibility requirements as students who participate in varsity sports.
"We are now like any sports team under the rules of eligibility," says Ski Club Adviser Mrs. Elaine Conrad, "your grades have to meet the eligibility rules and if they do not you will not go that week and there will not be a refund."
Student's grades will be monitored weekly and must not fall below 60% in two classes or have a GPA under 1.67 for all subjects or have 20 or more absences per semester.
According to Conrad there will be no exceptions to this rule.
The tentative dates for ski club this year are Thursday, January 9, 16, 23 and 30. The bus will depart from the high school main entrance for Blue Knob at 3:30 pm and will return at approximately 10:00 pm.
The cost for lift tickets varies by the student's age. Sixth grade students can purchase lift tickets for $37.00. Seventh through ninth graders pay $47.00 and tenth through twelfth grade lift tickets cost $52.00
The bus transportation costs $65.00 for all students. Ski rentals are $24.00, and snowboard rental is $44.00. Lessons for beginners are $20.00 for any student. Helmets, which are strongly encouraged, are also available to rent for $7.00 per session.
The total cost for the four trips ranges from $102 to $188, depending on the age of the student, the need for rentals, helmet, and/or lessons.
Payments and forms are due to Mrs. Conrad in the middle school room 5204 no later than Thursday, November 14. Conrad asks that all students return the forms only during 8th period or after school.
TAHS Junior and Ski Club member Shannon Gearhart is excited for this upcoming season. "I get to hang out with my friends while skiing down the hills," she says, "and I can't wait for the trips to start."
The Ski Club began in the mid-1970's. It was founded by math teacher Richard Ward, and has been a popular extracurricular activity ever since.
Mrs. Conrad also says she's looking forward to a good year, despite the hassle the new eligibility rule may cause. A snowy winter has been predicted by many experts this year, but for her, it's something to look forward to.
"I am excited," said Conrad, "I think we're going to have a lot of snow this year."
Students interested should see Mrs. Conrad as soon as possible.
Leave a Comment
About the Contributor
Karah Kaltenbaugh, Staff Photographer
Karah is a Junior at TAHS. She runs track, goes snowboarding, loves to write, and her biggest passion is photography. She loves taking pictures of macros and...