Senior Spotlight: Gampe Makes the Most of High School Years
From academics to athletics to extracurricular activities, senior Hannah Gampe has excelled in her four years at TAHS
High school is a time to try new things and find your passions, and senior Hannah Gampe has lived that motto to the fullest.
In her four years at TAHS, Gampe has complied an incredible resume of accomplishments. She is an outstanding student who has consistently been ranked in the top two of her class, a talented singer and actress, a gifted writer, a duel sport athlete, and a respected leader among her peers. Hannah has been involved in so many groups, clubs, sports and activities at Tyrone that it might be difficult to find a page of the 2019 yearbook without her in it.
For two years Gampe served as the student representative to the school board. Each month she attended the school board meetings and spoke on behalf of the students at Tyrone, especially the students in her grade level.
"
Hannah has been an invaluable member of the choral department.  She has participated in Concert Choir, POPS Extension and numerous PMEA choral festivals.  She has also been a shining star in our spring musicals"
— Laura Harris
"Hannah has been an excellent student representative to the Tyrone Area School Board.  She provides thorough information regarding the many activities occurring at the high school and has asked thoughtful, relevant questions regarding the items discussed," says Superintendent Cathy Harlow.
Gampe has been involved with the Eagle Eye News for four years and is the Editor-in-Chief this year.
"Hannah has been such an important part of Eagle Eye. She has written for us for four years, and every single year she has impressed me with her awesome attitude and work ethic. She will really be missed," says Eagle Eye adviser Todd Cammarata.
Along with all of her hard work with Eagle Eye and the school board, Gampe has been involved in many other extracurricular activities.
Athletically, Gampe has been a member of the Tyrone swim team for four years and the Tyrone tennis team for two years. She earned three varsity letters in swimming.
Gampe has also been involved in many of the musical groups at Tyrone.
"Hannah has been an invaluable member of the choral department.  She has participated in Concert Choir, POPS Extension and numerous PMEA choral festivals.  She has also been a shining star in our spring musicals," said music teacher and choir director Laura Harris.
This year she was hand selected to play the role of Rosemary in the spring musical, How to Succeed in Business Without Really Trying. She, along with other members of the musical, put in countess hours and great amounts of effort into this year's musical, which got great reviews from students and the public.
"To put so much time, energy, and effort into something and seeing all of that hard work pay off is an indescribable feeling," Gampe says.
In the school, Gampe is very well known for her kind heart and friendliness towards others. She has impacted many students in her grade, as well as the students in the younger grades.
"Hannah always helps anyone who needs help, without complaint. She is going to be missed greatly," said junior Cate Baran.
Gampe has also been a very active member of the Tyrone Youth Action Network, helping to plan the YAN Halloween Event, Pennies for Panzi and spring 4D Movie Night.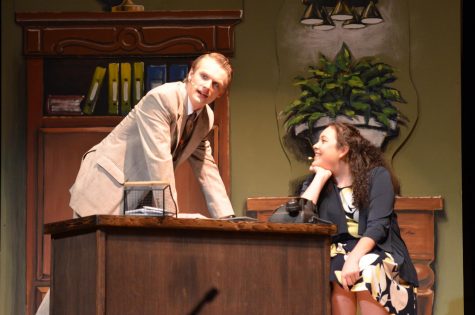 "Hannah has been involved with YAN throughout her high school career.  She's participated in many of our annual events: from the creativity aspects behind the scenes, to the hands-on set-up and tear down work, to the dramatic flare she brought to the 4-D movie events.  She, along with others, has helped YAN evolve into the club we are today," states Youth Action Network advisor Cummins McNitt.
She was also named the Homecoming Princess this year at the annual Homecoming football game.
Outside of school, one of Gampe's greatest passions is the piano. She has taken nine years of piano lessons and last year she performed at a national level where she played ten songs from memory, impressing the judges.
"My audition program [for piano] last year was one of my favorite and greatest accomplishments," said Gampe.
After high school, Hannah will attend Penn State Behrend in Erie. She plans to major in mathematics and possibly double major or minor in statistics.  
According to TAHS math teacher Michele Marasco, Gampe will find success at Penn State.
"Hannah has a real love of mathematics. She works extremely hard to obtain a deeper understanding of mathematical concepts and has excelled in the dual enrollment math courses here at Tyrone.  I know she will continue to shine at Penn State University in the mathematics field," says Marasco.
Even though Hannah is going to miss Tyrone, she is also ready to continue the next chapter of her life.
"Tyrone is a great, little hometown, but I think the seniors, myself included, are ready to graduate and experience new opportunities in life," said Gampe.
About the Writer
Sarah Hoover, Staff Writer
My name is Sarah Hoover and I am a sophomore at Tyrone Area High School. This past summer I was a lifeguard at Delgrosso's Amusement Park.  During the...