Senior Spotlight: Ava Focht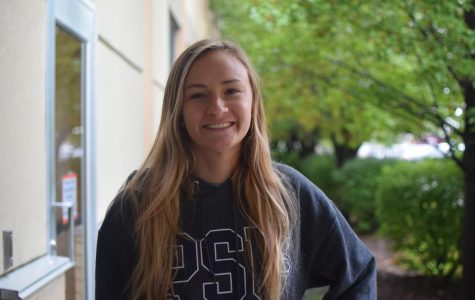 Eagle Eye: What are your plans after high school?
Ava Focht: "Go to Penn State to study elementary education."
EE: What is your favorite high school memory?
AF: "Being on the cheerleading team when the girls basketball team went to state playoffs."
EE: Mac's Market or East End? Why?
AF: "Mac's Market. Just because."
EE: What extracurricular activities are you involved in?
AF: "Pops Extension, Drama Club, Student Council, Prom Committee, and I used to be a Cheerleader."
EE: What will you miss most about high school?
AF: "Seeing my friends everyday."
EE: Is a hot dog a sandwich?
AF: "No."
EE: What is your favorite non vulgar word?
AF: "Drats."
EE: Do you have any advice to underclassmen?
AF: "Work hard for what you want, but have fun in the process."
EE: Where do you see yourself in 5 years? 10 years?
AF: " Graduated from college, teaching, hopefully married and eventually have kids."
EE: It's been a long ride, are you ready for it to come to an end just yet and why?
AF: "Yes because it feels like I've been in High School forever and I'm ready to move on, but I also know I'm going to miss it and my friends."
View Comments (1)
About the Contributor
Kolby Cowher, Staff Writer
Hello, I am Kolby Cowher, but you can call me Mr. Cowher. I'm just a simple man trying to make my way in the universe. I joined Eagle Eye to hone my skills...