Senior Band Spotlight: Sara Herr
The band is a huge commitment, and no one in the Tyrone Band has dedicated more time to the band than senior Sara Herr. She has been a member of the Tyrone bands since fifth grade when her mother convinced her to join, and she has stuck with it since then.
Marching Band Director David Hock says Herr has contributed many things to both marching band and indoor percussion.
"Sara has been a great leader and role model for other students. Over the years she has helped other students with their music and drill. Students like Sara are key to helping our band succeed," Hock said.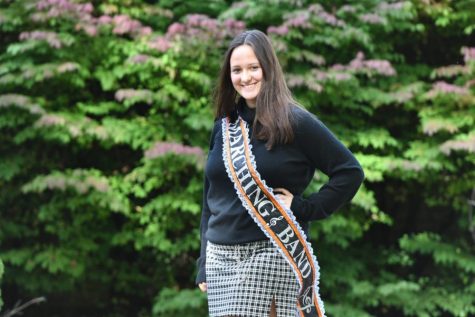 Herr is one of the few clarinetists in the marching band, and fellow bandmate Xena Sieminski knows that Herr will be difficult to replace.
"I feel like the band will be affected greatly [when she graduates] because she is a main branch of the band. Her humor and talent create the clarinet section and makes us whole," Sieminski said.
After graduation, Herr plans to go to college and study to become a teacher.
With Herr ready to finally move on from high school, senior Drum Major Becca White knows that Sara will be missed.
"I'll miss her humor, her talent, and her advice the most. Sara is just such a good friend, and I'm so grateful that we could share these amazing five years in band together." White said.
Herr has made many memories all throughout Middle and High School, but the bonds are most important to her.
"My favorite memory from school would have to be getting to create bonds with the teachers and having fun with friends," Herr said.
With graduation on the way, Sieminski thinks that Herr was and will always be a great influence for others.
"She always knows how to make someone laugh with her great jokes. Even when she isn't feeling it herself she still makes others feel their best. She has been there for me through thick and thin and I will definitely be heartbroken to see her go and be her own person," Sieminski said.
Herr has had many accomplishments throughout the years she's been in school, but only one really impacts her.
"My biggest accomplishment would be just making it to where I am today," said Herr.
Leave a Comment
About the Contributor
Abigale Roberts, staff writer
Abigale Roberts is a freshman and it is her first year writing for the Eagle Eye. She is in the Marching Band and enjoys practicing anytime she can. She...