Season Preview: Defending State Champ Golden Eagles Reload for 2022
After a historic 2021 season where the Golden Eagles won 23 games, won the Altoona Curve Classic in their first trip to the tournament, and most importantly brought home the first PIAA state championship title in school history, the Eagles will face a long list of challenges in order to repeat the magic of 2021.
Fortunately, with a talented core of returning players and a deep roster, Tyrone should be a talented team and a dangerous playoff contender again this season.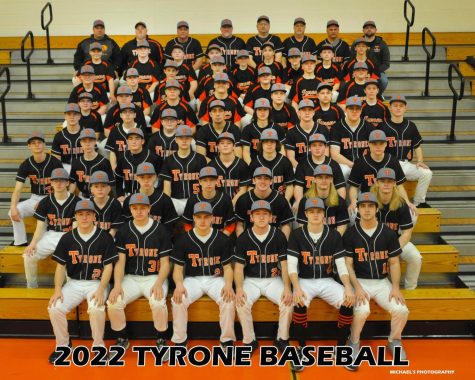 Led by head coach Kevin Sollener and assistants Dave Mease and Jim Lang, Tyrone goes into the season facing the tall task of replacing five senior leaders from last year in Rodney Shultz, Brandon Lucas, Blaine Hoover, Bryce Hunter, and Michael Buck.
Looking to step up and fill the shoes of Shultz and Lucas will be seniors David Lang and Aiden Coleman. Coleman and Lang have each played vital roles in Tyrone's success dating back to their freshman season. Now as seniors, they look to lead Tyrone on another deep run this spring.
Lang will shift into Shultz's role as captain of the infield. Lang's primary position last season was second base but will shift across the infield to shortstop while also playing second in certain situations.
Buck will be replaced by Luke Brooks behind the plate. Brooks helped tremendously in last year's playoff run easily being one of the hottest hitters on the team, and will look to carry that hot bat into this season.
Along with losing their reliable left side of the infield, the Golden Eagles will also need to replace two members of their outfield – speedsters Bryce Hunter and Blaine Hoover. Zac LeGars, who is a speedster himself, will command the outfield in centerfield for the Golden Eagles, with senior Aidan Coleman in right field when he is not on the mound.
The holes left by Hunter and Hoover will most likely be filled by a combination of sophomore AJ Coleman and senior Cortlynd Rhoades, who will be Tyrone's utility player as he is capable of playing all over the infield and outfield.
After stepping into the everyday first baseman role last season, junior Ross Gampe will look to replicate his breakout 2021 sophomore season. Gampe led the Eagles in many hitting categories, including home runs.
Even considering the state championship game, Tyrone's biggest win of last year was in the state semifinals against the always-tough Central Dragons. The emotions of the two towns were running high that night as over 2,400+ people packed into Peoples Natural Gas Field for one of the most highly attended games in Pennsylvania state baseball history.
This year the Dragons will be the team to beat again and any repeat trip to the PIAA playoffs will likely go through the Cove. The Dragons return several key members of their 2021 squad including seniors Paxton Kling, Devon Boyles, and Jonah Snowberger.
Opening day was postponed due to the weather so the Golden Eagles will play their first game tonight against Penns Valley at home.
ROSTER
Seniors: Luke Brooks, Aiden Coleman, David Lang, Nick Lehner, Cortlynd Rhoades, Jesse Yingling.
Juniors: Caiden Bonsell, Ross Gampe, Balin Hand, Zack LeGars, Joshua Patterson, Nathaniel Patterson.
Sophomores: AJ Coleman, Ryan Light.
Freshmen: Landon Hamer, Kendall Lehner, Ashton Walk.
SCHEDULE
March
31 – vs. Penns Valley.
April
1 – at State College, 4:15 p.m.; 4 – vs. Juniata Valley; 5 – at Philipsburg-Osceola; 8 – vs. Clearfield; 11 – vs. Bald Eagle Area; 14 – at Huntingdon; 19 – vs. Bellefonte; 22 – vs. Somerset; 23 – at Bellwood-Antis, 11 a.m.; 25 – vs. Philipsburg-Osceola; 27 – at Penns Valley; 28 – vs. Hollidaysburg, 3 p.m., at Altoona Curve Classic.
May
3 – at Clearfield; 6 – vs. Huntingdon; 9 – at Bald Eagle Area; 12 – at Bellefonte.
All games begin at 4:30 p.m. unless noted.
Leave a Comment
About the Contributor
Aiden Coleman, staff writer
Aiden Coleman is a senior at Tyrone Area High School, and this is his first year on the Eagle Eye staff. He is on the varsity baseball team for Tyrone...