Remembering Adam Fink: Tyrone's Angel in the Outfield
Gone but never forgotten, Tyrone students remember a very special classmate.
On November 18, 2002, 15 years ago today, Adam Fink was born. He lived a life of inspiration, though it was not nearly long enough.
As Tyrone's freshman class settles into their first year of high school, many are thinking of their former classmate who isn't able to embark on this new chapter of life with them, on what would have been his fifteenth birthday.
In 2010, Adam was diagnosed with Rhabdomyosarcoma, a type of cancer that attacks connective tissues in the body, such as muscles, fat, bones, the linings of joints, or blood vessels. Adam battled cancer bravely for two years but passed away on Saturday, November 17, 2012, just one day shy of his tenth birthday.
"
Adam taught me that no matter what struggles you have, no matter how hard they are, you keep pushing forward."
— Blaine Hoover
Adam enjoyed playing baseball, hanging out with his two best friends Brandon Lucas and Rodney Shultz, going to the Tyrone public pool, and playing with his pets.
Adam was especially passionate about baseball.  As a result, his close friends and family started Team Adam Day, a day filled with his favorite game, to show support and raise money for their friend and his family.
"The whole day was for Adam. He loved baseball, and seeing his friends play it. It showed him that we were all there for him in his fight against cancer," said close childhood friend Brandon Lucas.
"I remember when Adam beat me in a pitching competition at the first Team Adam Day. We were the last two, and he still beat me after he lost his arm," said classmate and friend Michael Stoner.
Brandon Lucas said that his favorite memory of Adam was seeing him on the first Team Adam Day.
"He was so happy knowing that all of the people were there to support him and enjoy the day with him," Lucas said.
When Adam returned to school following the amputation of his arm, some children would stare at him because he was different than themselves, but Adam embraced it.
"We were in basketball at the rec center on opposite teams. I remember thinking 'How do I guard him? Should I go easy on him?' But, he went all out. He was good too. I didn't hold back because he challenged me," said friend Nick Lewis.
"
He taught me to live life to the fullest. He was just a happy soul all of the time"
— Makenna Bauer
Adam's journey impacted the lives of many of his friends and taught them important life lessons early on.
¨Adam taught me that no matter what struggles you have, no matter how hard they are, you keep pushing forward. If you are upset that you have a broken finger,  just think – someone has it worse than you, and you should be thankful for what you have. Adam did that so well,¨ said Blaine Hoover.
"[Adam] made me realize [that] life could change at any time," said friend Rodney Shultz.
His happy-go-lucky attitude was infectious and spread to all around him.
¨I will never forget how personable he was. Every day when we were in second grade, Adam would ask me if he could take me out to dinner and a movie. It was just so funny, I mean we were six or seven. I would say no and laugh every time, but he just kept asking. Guess that shows how persistent he was,¨ said friend Lucia Isenberg.
Losing a classmate and friend at such a young age has affected many students in the freshman class. Every person has their own way of coping, whether it be to let it all out or hold it all in, and each student that knew Adam had to find a way to deal with such a tragedy.
¨I was in Key West when my best friend called me and told me the news. At first, I had no emotion, I was shocked. The next morning when I woke up, I cried all day, and the next, and the next,¨ said Isenberg.
"From a young age, I learned how to deal with grief. He taught me to live life to the fullest. He was just a happy soul all of the time," said Bauer.
Everyone misses Adam, and some students shared just what they miss most about him.
¨He was the most positive person I knew, so [I]definitely [miss] his positivity,¨ said friend Garrett Martin.
"[I miss] his humor, competitive attitude, and playing whiffle ball in his backyard," Shultz said.
Since his passing, Team Adam Day has grown into an annual event, held each year on the third Saturday in May. It brings the community together in memory of Adam and his courageous spirit. All proceeds benefit Adam's Field of Dreams and the Adam Fink Baseball Scholarship Award.
While Adam's passing was a horrible loss for everyone who knew him, his perseverance and determination are a lifelong inspiration to all.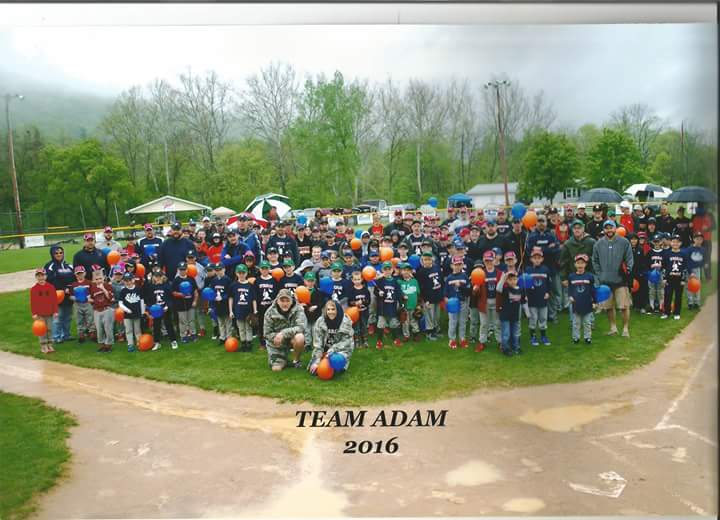 View Comments (13)
About the Contributor
Lucia Isenberg, Photo Editor
This is Lucia's fourth year in Eagle Eye and her third year as Photo Editor. She is very excited to express her creativity and find new ways to take...