Tyrone Clinches First Win Against Bellefonte
The Golden Eagles got their first win of the year with a commanding 21-0 win over the Bellefonte Red Raiders on the road. Making Tyrone (1-2) for the year.
Tyrone started the game quickly with 2 scores in the first quarter.
Tyrone's defense finally got on track this game when they forced three turnovers throughout the entire game.
"We hadn't been getting turnovers this year. This is the first game we got any turnovers. It was nice to see that we were able to convert on them. We haven't had the opportunity. That was big, no doubt about it. Turnovers generally make or break a game and tonight we were lucky enough to get them. I hate to say we were lucky enough to get them because I think we played pretty hard." Coach Franco said.
Senior Jake Johnson also got credited with two sacks which was quarterback pressure that Tyrone was lacking in the last two games.
Tyrone also started to get the run game going when Ronan had 101 yards on 20 carries. 
In the first quarter Tyrone scored twice within 14 seconds of each score. 
The first score happened on Tyrone's first drive of the game where they drove 80 yards down the field and made a 37-yard touchdown pass to Court Rhodes making it 7-0.
Sophomore safety Dravyn Crowell made a big play during Bellefonte's next drive by getting an interception.
Crowell's interception placed Tyrone on the Bellefonte 1-yard line which set up with a 1-yard touchdown run to Ronan making it 14-0.
No-one scored throughout the rest of the half which kept the score 14-0 Tyrone. 
Tyrone's only other score was in the third quarter which was an 8-yard run to Ronan making the game 21-0.
Tyrone needed a win after losing their first two games of the year. Hopefully this bounceback win can carry into the coming weeks. Especially against a tough 3-0 Clearfield team.
SCORE BY QUARTERS
Tyrone 14 0 7 0 — 21
Bellefonte 0 0 0 0 — 0
First Quarter
T–Rhoades 37 pass from Gwinn (Gwinn kick), 2:35.
T– Ronan 1 run (Gwinn kick), 2:21.
Third Quarter
T–Ronan 8 run (Gwinn kick), 5:33.
TEAM STATISTICS T BEL
First downs 12 9
Total yards 223 172
Rushes-yards 32-121 35-117
Yards passing 102 55
Passing (comp.-att.-int.) 7-22-1 7-11-1
Punts-avg. 4-31 3-30
Fumbles-lost 1-1 3-2
Penalties-yards 6-62 3-21
INDIVIDUAL STATISTICS
RUSHING–Tyrone, Ronan 20-101, Gwinn 6-8, Miller 2-3, Beck 4-9. Bellefonte, Way 20-90, Heckman 10-8, Weaver 2-5, Lowry 3-14.
PASSING–Tyrone, Gwinn 7-22-1-102. Bellefonte, Way 7-11-1-55.
RECEIVING–Tyrone, Baldauf 1-7, Ronan 2-20, Rhoades 1-37, Beck 2-31, Miller 1-7. Bellefonte, Lowry 2-11, Weaver 1-7, Cronin 1-8, Badger 1-9, Capperella 1-6, Johnson 1-14.
Leave a Comment
About the Contributors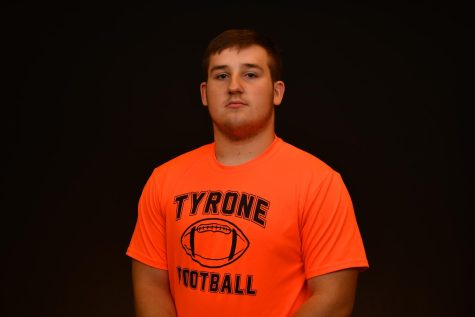 Dylon Brower, Staff Writer
Dylon Brower is a senior in his third year of Eagle Eye who enjoys giving an inside view into the locker rooms of the sports he plays. Dylon is someone...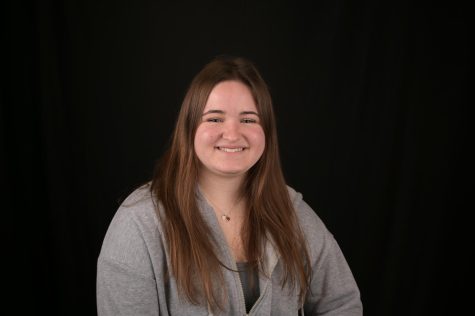 Ellie Oakes, Editor in Chief
Ellie Oakes is in her third & final year as a member of the renowned Eagle Eye News staff. As a senior, she is hoping to make her last year of high...