Peace is Possible: Tyrone Grad Attends Nobel Peace Prize Forum
The 2014 grad is a senior at Juniata College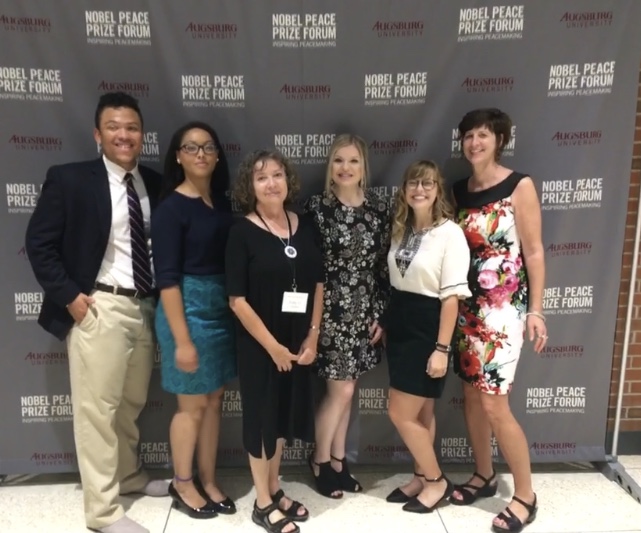 TAHS alumna, Madalyn Miller '14, attended The Nobel Peace Prize Forum 2017 in Minneapolis this September. As a dual major in Economics and Business (EB) and Peace and Conflict Studies (PACS), Miller was invited and sponsored by The Baker Institute for Peace to attend the forum.
"
The best way to strengthen your voice is through education"
— Madalyn Miller
"I initially went into college as an Economics and Business major. I actually declared my second degree, Peace and Conflict Studies, when I developed a stronger political awareness of the injustices occurring locally and around the world. I wanted to know my voice would be heard. I wanted to feel like I was making a difference in the movement towards social justice and peace. And the best way to strengthen your voice is through education," said Miller.
The Nobel Peace Prize Forum is an annual conference that is said to be a "dynamic global event" that helps grow the idea of "building a world where people can live full, rich, meaningful lives."  Those in attendance include Nobel Peace Prize Laureates, international leaders, world-renowned peacebuilders, social change advocates, students, and researchers.
"I greatly enjoyed my time at the Forum. It was truly a life-changing experience that offered me insightful perspectives on many social topics that I hold very close to my heart," commented Miller.
The keynote speakers this year were members of the Tunisian National Dialogue Quartet.  The group focused on building a pluralistic democracy in Tunisia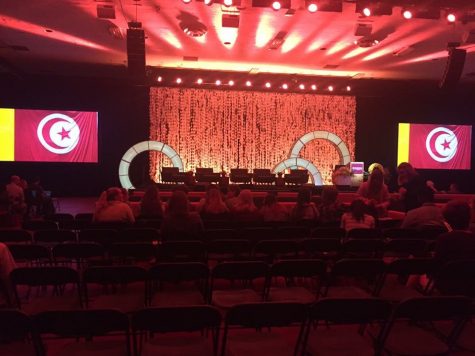 .  A pluralistic democracy is a political system where there is more than one center of power.  During their keynote, the group expressed their plan to decentralize government power from the Ennahda party.  
Miller learned that the first and most basic peacebuilding tactics to restore justice and non-violent efforts is the rehumanization process.  This is the development of restoring empathy and mutual identification among peoples.   The Tunisian National Dialogue Quartet explained the process during their speech.
"Being an active bystander to intolerance and violence, across all cultures, is the only way to achieve peace. We have to care about international injustices for the simple reason that those being affected are humans too–humans who deserve a long, meaningful life of love and happiness .  .  . These four individuals successfully prevented a civil war from occurring in Tunisia by non-violent strategies and dialogical approaches," said Miller.
In addition to the Tunisian National Dialogue, Miller heard from former congresswoman Gabby Giffords.  Giffords spoke about gun violence/gun-control.  In 2011, Giffords was shot in an assassination attempt while meeting constituents at an Arizona grocery store.  Despite being left with a serious brain injury, Giffords now spends her time advocating for stricter gun laws with her husband, astronaut Mark Kelly.  The couple discussed the ideas of requiring more comprehensive background checks, limiting the types of guns civilians can purchase, and closing the gun-sale loopholes.  Kelly and Giffords went into great detail describing the statistics that are associated with have a gun in a household, explaining the risks of higher suicide rates and higher deaths caused by children accidentally shooting themselves.
Among the variety of topics and speakers at the Forum, another speaker greatly influenced Miller.  Dr. Elijah Anderson, a Yale professor of sociology and published author, discussed structural racism and implicit biases.  Other topics Miller mentioned included healthcare in Africa, indigenous people's rights, how to foster economic growth in post-conflict areas, current protest/political climate in US, water rights, and so much more.
The forum inspired Miller to focus her life on achieving a peaceful world where all living beings are given basic human rights and respect.  However, Miller credits Tyrone for her success as well.
"Tyrone prepared me for college by offering rigorous and nuanced course material that challenged me to think critically and comprehensively. This was done through the encouraged active collaboration between students and teachers. Tyrone High truly fosters an outstanding academic program in thanks to the educators who make learning interesting, welcoming, and fun," Miller commented.  
As Miller looks to the future, her life goal includes working towards the effort of achieving a peaceful world where all living beings are given basic human rights and respect.  In the immediate future, after Miller graduates, she intends to pursue a graduate degree in Social Justice or Conflict Intervention.  
"In 5-10 years I hope to be working for some type of human rights advocacy group. I am particularly passionate, both in a professional and personal capacity, about domestic and foreign female equality issues. This line of work would include aiding violence against women movements, assuring women (globally) are offered quality educations, and developing sustainable economic independence for females." Miller commented about her long term goals.  Miller also hopes to travel the world, attend service trips, and assist a rescue sanctuary.  
"My advice to high school seniors, when entering the college arena, would be: be brave, believe in yourself, know that you are capable and deserving, and never, ever let someone minimize your dreams," said Miller. "We can accomplish so much more through peace and unity than we can through violence and separation.  Peace and kindness are possible."  
"
We can accomplish so much more through peace and unity than we can through violence and separation.  Peace and kindness are possible."
— Madalyn Miller
About the Contributor
Emma Hoover, Features Editor
Hi, my name is Emma Hoover, and I am a Senior at TAHS.  This summer I was a Lifeguard at Delgrosso's Amusement Park.  During the school year, I'm a...