Mrs. Suzy Burket: HIST 101 – A major in history, a minor in music
Tyrone High School social studies teacher Suzanne Burket may have extensive knowledge about the history of the United States, but what do the students know of her own history? After all, Mrs. Burket wasn't born with a text book in her hand.  Her accomplishments throughout her life go far beyond the memorizing the names of all 44 presidents.
Burket grew up in Bakers Summit, Pennsylvania and attended Northern Bedford for elementary, middle and high school. While she was in school she was involved in many clubs and sports, but her favorite activities and classes always had to do with music. During her high school years her school put on productions of Oklahoma, where she played Aunt Eller, and The Sound of Music, in which she played Mother Abbess.
"In 10th grade we did Oklahoma," Burket recalled,  "and we worked from February to April every night, sometimes til 10:00."
Burket also remarked on how much the show brought the cast together and how the show impacted her and her classmates: "By the end of the show we were so close that all cliques had been erased and everyone in the show had total acceptance for each other.  Quirks that would normally have been the source of mean-spirited teasing became endearingly accepted as an interesting part of the individual. This time period is probably my warmest memory of high school, and I wish everyone could have an experience like that in high school."
She also took part in her school's show choir, the Meistersingers. She also ran track, played volleyball, and participated in majorettes.
"
Mrs. Burket goes deeper when she teaches. She goes beyond the text book, and everything I know about US history is because of her "
— senior Carrie Vance
During her junior year of high school, Burket won a national singing competition held in Colorado.
"I went to a church that was really committed to youth programs," said Burket, "and we had regional competitions with other churches in our denomination in art, drama, and  group and individual singing."
Burket was up against stiff competition, but she was able to place in the regional competition and advance onto the National Youth Convention during the summer.
"I started competing in 7th grade, and my goal was to win nationals."
But, unlike many high school musicians, this was not the end of Burket's involvement in music. While she attended Pennsylvania State University for communications and later social studies education she tried out opera. After college she started leaning more towards jazz, and was involved in various bands.
Burket even produced a CD with her contemporary worship band, Joshua Quest.  Her husband Mike plays bass guitar in the band.  Click the video above to listen to a track from the album that features Burket's vocals.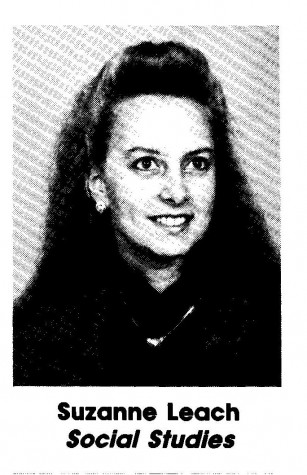 Currently she and her husband participate in a music ministry along with other musicians– "We just spent a weekend with some guys from a drug rehabilitation program that one of our members supervises," explained Burket, "We played worship music throughout the weekend, taught the guys, and just generally hung out with them to get to know them."
But music is not the full extent of Burket's accomplishments– she is also a valued teacher here at Tyrone.
After she graduated from Penn State, Burket subbed for a semester and then started her career at Tyrone Area School District as a social studies teacher after she saw 'help wanted' ad in the newspaper that read: "Wanted, football coach who can teach history."
"That was a rather intimidating help wanted ad for a woman," said Burket, "but a friend who was a major jock and body builder kept telling me, 'Don't let that put you off.  Go for it.'  I'm glad I took his advice because that job was here at Tyrone.  I've been here since 1990—25 years."
Currently she teaches ninth grade, US History II and Duel Enrollment US History. Her students appreciate her teaching style and her ability to make history more interesting.
"Mrs. Burket goes deeper when she teaches. She goes beyond the text book, and everything I know about US history is because of her," said senior, Carrie Vance who is currently taking Burket's DE History class.
Burket goes above and beyond when it comes to making history interesting and memorable– she shows Schindler's List, hosts decade parties, and even sings for her 9th grade history classes.
"We were all very surprised when Mrs. Burket sang for us," said senior Mark Lewis, "We were studying the Jazz Age of the 1920's, and as a fun project we threw a 1920's party. Mrs. Burket dressed up as famous singer, Bessie Smith, and when she sang, it was incredible. She is an amazing singer."
The students here truly enjoy Burket's classes, and there are even underclassmen who hope to have her for class again.
"I really enjoyed Mrs. Burket's class last year," said sophomore, Haley Butina, "I think it would be awesome to take her DE class the next time around."
Leave a Comment
About the Contributor
Molly LaPorte, staff writer
My name is Molly LaPorte and I am a senior. This is my first year writing for the Eagle Eye. I also participate in the high school marching band, Pops...