Mr. Webster Returns From Washington
Eagle Eye Editor Zack Webster attended a student journalism conference this summer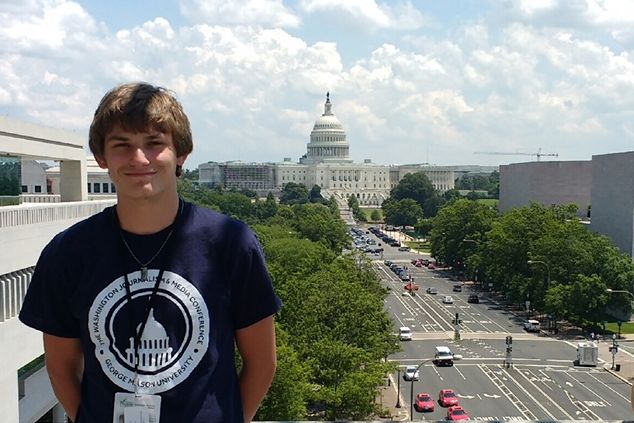 Tyrone senior and Eagle Eye Editor in Chief, Zack Webster, took part in the esteemed Washington Journalism & Media Conference in late July.  Webster had the opportunity to learn alongside students from all over the country about communications, media, and journalism.
George Mason University in Fairfax, VA hosted the week-long journalism conference.  According to their website, the conference curriculum includes hands-on learning with industry leaders from the George Mason faculty as well as international media outlets and Washington insiders. 
"
It's an extremely good opportunity for students to get a hands-on education on media and news"
— Zack Webster
Throughout the conference, Webster enjoyed hanging out with his group and wandering through D.C. with his friends.  According to Webster, that was definitely the highlight of the experience.
"During the conference, we went around the D.C. area, including the Newseum, the Capitol Building, and the National Press Club Building," said Webster.  However, the conference wasn't all just fun and games.  The students were there to learn about journalism. The conference kept Zach and the other attendees busy from 7:00 A.M. to 11:00 P.M. every day.
"The conference itself was extremely time-consuming and demanding, but I had a ton of fun," commented Webster.  From July 9th through the 14th, Webster was completely immersed into journalism.
At the conference, Webster attended meetings and lectures with established journalists and journalism executives.  Webster's favorite speaker from the conference was Brian Lamb, the founder of C-Span. Lamb stood out from the other presenters because he asked about their stories, rather than just telling his own stories.
"For the whole hour we were there [Lamb] went around the room asking students to share something interesting about themselves or their families. And at the end, he said that everyone has a journalism-worthy story. And that message has stuck with me," said Zach Webster.
Webster recommends the program to anyone interested in journalism.  
"It's an extremely good opportunity for students to get a hands-on education on media and news," said Webster. 
Eagle Eye adviser Todd Cammarata nominated Webster for the program last year.  Webster was one of 500 students nationwide accepted to attend the conference.  
"I am really excited that Zack was able to attend this conference. It wa a great opportunity for him to improve his journalism skills and meet some other great students from across the country," said Cammarata.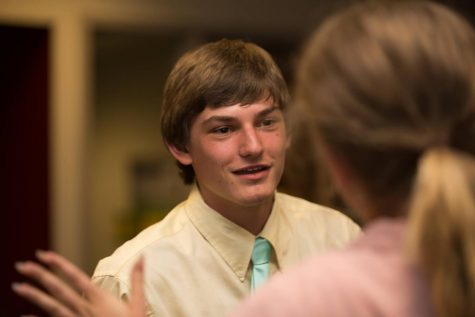 About the Contributor
Emma Hoover, Features Editor
Hi, my name is Emma Hoover, and I am a Senior at TAHS.  This summer I was a Lifeguard at Delgrosso's Amusement Park.  During the school year, I'm a...