Long's Graystone Grande Palazzo Making Great Strides
Tyrone alum Jeff Long's $20 million Graystone Grande Palazzo project at the site of the former Bon Secours Hospital is transforming an Altoona neighborhood.
Now in its second year of construction, Long is transforming the former hospital into luxury senior apartments and a long-term care facility. 
This project is a major lift for a neighborhood in Altoona that was in sharp decline after the closing of the hospital.  The project is already creating a ripple effect in the neighborhood surrounding the hospital, according to Stephen McKnight, president and CEO of the Altoona Blair County Development Corporation.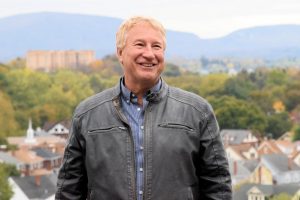 Thanks to the success of the Grande Palazzo, the project has sparked development of the old Silk Mill across the street into a mixed use retail and office space, set to open sometime in the next year or two.
Across the street from the Grande Palazzo in the other direction, another developer is in the planning stages of a project that will bring new town homes to the neighborhood as well.
"Without the Grande Palazzo, these projects would not have happened. Period. Anything short of what Jeff did would not have created that project," said McKnight.
Other businesses in the neighborhood also hope that the project will set an example for developers to follow to restore existing buildings in the city. 
"We're excited about the project and hoping it will inspire other businesses to move in and clean up the neighborhood. Hopefully, better businesses are will be coming into the area," said Sue Harding of the Broad Avenue Barber Shop, which is only two blocks away from the Palazzo.
In 2012 the former Mercy Hospital, then known as Bon Secours, closed and for several years there was little interest in developing the property.


It would have cost its owners, UPMC Altoona, roughly $2 million to demolish the hospital campus. However, Long felt that there was no good reason to tear down a structurally sound building. So he proposed that UPMC pay him $1 million to gut the building and then sell the remaining property to him for one dollar.
This is Long's fifteenth and largest senior apartment project.
This time last year, demolition was still far from complete and the building looked more like an empty shell of an old hospital rather than a luxury apartment complex.  Now on the top floors are getting final layers of paint, the walls and kitchen fixtures are being installed. It's starting to look a lot more like home. Long's team is working from the top floor down, and still have a lot of work to complete before the apartments will be open.
Much of the lobby floor will be open to the public and feature a full-service spa, pool, hot tub, massage room, salon, coffee shop, movie theater, library, and restaurant.
Long will offer several different size apartments, including one-bedroom units, two-bedroom apartments, and two bedroom luxury apartments on the "penthouse" floor.
Residents of the luxury apartments on the top floor will have access to their own balcony with sweeping views of the city of Altoona.
Long is hoping that the first phase of construction will be completed in one to one and a half years.
Although the project hasn't had any major setbacks, it is still taking a little bit longer than he anticipated.
"I was so surprised on how often I need to actually be here. For past formal projects I have only needed to stop by every other day– it's still really fun though," said Long. "It is such a neat project… to be a part of something this phenomenal is such a privilege."
About the Contributors
Meghan McMullen, News Editor
Oh, hi there! My name is Meghan McMullen, I'm a senior here at Tyrone and this is my second year in Eagle Eye News. At school, I'm involved with a lot...
Lucia Isenberg, Photo Editor
Hey there! I'm Lucia Isenberg and a Junior at good ol' Tyrone High. This is my third year in Eagle Eye and my second year as Photo Editor. I have started...