Cable TV shows like Alone on the History Channel are giving wilderness survival skills a moment in popular culture. These shows highlight the skills necessary to survive in the wilderness.
While Tyrone sophomore Dylan Eckenrode didn't get to spend weeks alone in the Alaskan bush, he was able to prove wilderness survival skills by winning a local Boy Scout challenge this fall.
In September Eckenrode and other local scouts competed in as part of a Wilderness Survival Merit Badge Challenge.
There were five contestants in the challenge. Each was allowed to bring only a few supplies – everything fit into a small one-gallon can.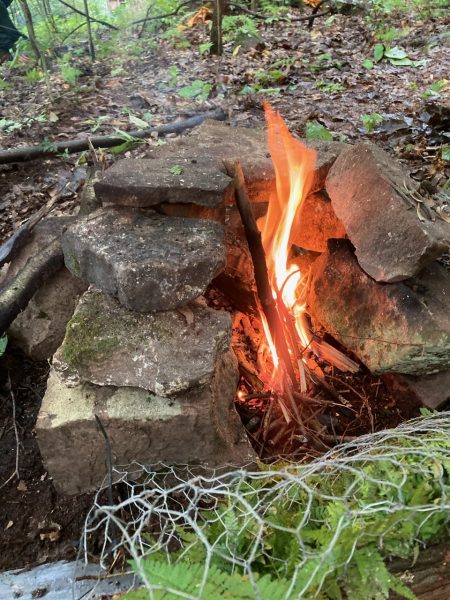 The supplies included a lighter wrapped in tape, a parachute cord, an 8×12 ft drop-cloth for shelter, dryer lint for fire starting, fishing line, fly-fishing flies, wire, two energy bars, two packs of peanuts, and a flashlight.
Around 6:30 pm, Eckenrode started hiking in for his drop. He arrived at his camp location around 7 pm and got food in a bear basket for safety and protection. He then continued by building his shelter in the dark.
"Another contestant showed up around 10:45 pm and started building his shelter about 75 yards from me. I slept for about two hours and the fire started around 1 am. That kid was not there when I woke up, so I thought I won," Eckenrode said.
Even though he wouldn't be there long enough to face starvation, it was important to Eckenrode to prove to himself that he could find food without a weapon.
He made a rod and a net out of sticks and chicken wire, and was able to catch two brook trout.
By lunchtime, he had made an old fire pit into a stone furnace to cook up his catch and keep warm for the night.
Just to add to the challenge, Mother Nature decided to make things a little tougher.
"It poured down rain that night for about two hours," said Eckenrode, who prepared by making a shelter out of the 8×12 tarp that was included in his gear.
The next morning, Eckenrode woke up at 2:30 am to his final competitor walking down the trail. He had spent a total of 32 hours in the woods to win the competition.
He said being bored was probably the most difficult part of the experience. "I [tried] to fight it by making things out of what I could find in the woods, plus what I brought in the can," Eckenrode said.
Asked if he would ever consider trying out for a survival competition, Eckenrode said "I would consider doing the show Alone, it seems to be a neat experience."