Local Photographer Terry McCaulley Gives His Time and Talent to TAHS
Terry talked to the Eagle Eye about his photography, his recent "go fund me project" and shared some of his all time favorite photos
Anyone who regularly attends Tyrone High School sporting events knows Terry McCaulley, the "unofficial-official" photographer of Tyrone High School sports. Terry's dedication and unselfish generosity with his photos have made him a Tyrone community treasure.
"
I bought my 1st good camera in 2009 when [my daughter] Katelyn was in high school. I wanted to capture photos of her cheering and I was tired of getting bad pics from point and shoot cameras"
— Terry McCaulley
"Terry has given so much of his time and talent," said Beth Cannistraci, Tyrone teacher and parent, "Not only does Terry take pictures of almost every home sporting event, he posts them on Facebook for parents and kids to see and use at no charge.  As a parent, you want to capture as many moments of your child as you can.  During the events, I just want to watch and enjoy the moment.  Afterwards I can appreciate the events again through Terry's lens. He has a gift and he shares it willingly."
While you certainly couldn't tell from the quality of his work, McCaulley's interest in sports photography began out of frustration.
"I bought my 1st good camera in 2009 when [my daughter] Katelyn was in high school.  I wanted to capture photos of her cheering and I was tired of getting bad pics from point and shoot cameras," said McCaulley.
McCaulley eventually traded in his point and shot digital camera for a Nikon DSLR and a high quality lens capable of shooting fast action in low light situations.
"I wouldn't be doing this if it wasn't for [Tyrone Herald photographer] Mary Michaels," says McCaulley, "She loaned me her camera to start out, before I bought mine. She let me use her one big lens for the games until I bought mine.  It was Mary who asked me to help her take photos for the Tyrone Herald, and it was all down hill from there!" said McCaulley.
What had started out as a quest for better family photos quickly developed into a full-time hobby.  Terry estimates that he goes to at least 100 Tyrone sporting events a year, and rarely, if ever, leaves his camera at home.
As a photographer, McCaulley enjoys shooting football and wrestling the most. "My favorite sport growing up was wrestling, so I love going to matches," said McCaulley, " but football is also at the top, because of our success, [along with my] family and friends playing."
At an average game McCaulley says he takes 300-500 pictures.  After the game he posts most of them to his Facebook page and allows anyone in the community to download them free of charge.
"He contribution to our sports, like basketball and football, made my high school career more memorable," said Tyrone senior athlete Zack Sollener, "Knowing that thanks to Terry I can look back at all those memories anytime I want to is incredible."
McCaulley has also been a big help to the Eagle Eye staff, mentoring student photographers and sharing his photos with the Eagle Eye staff.
"At the games Terry always helps us know where to be and what types of pictures to shoot," said Eagle Eye photo editor Erika Voyzey, "and whenever we have schedule conflicts it's great that he allows us to use his quality photos for our stories."
But recently equipment malfunctions have threatened McCaulley's hobby.
"My old camera is slow and it's only 12.3 megapixels. My big lens is constantly needing repair because it won't focus properly in auto mode," said McCaulley.
"
We have the best community and the best fans. I want to thank them all"
— Terry McCaulley
A few parents and friends suggested that McCaulley set up a "Go Fund Me" project online to raise money to replace his aging equipment.
The response from the community has been overwhelming.  Since the campaign began on October 26, McCaulley has raised $4,210 from 72 donors.  The campaign has a goal set of $5,000, with all proceeds going towards a new camera, lens, computer, and software.
"We have the best community and the best fans," said McCaulley about the response to his fundraising request, "I want to thank them all."
McCaulley's favorite Tyrone sports memories are of the 1999 state championship and 2011 the state runner up football teams.  Another personal highlight was accompanying Tyrone wrestler AJ Schopp and his family to high school states and NCAA Nationals to capture photos of him winning a state title and becoming a three time NCAA All-American.  Be sure to check out the photo slideshow on this page, it contains many of McCaulley's personal favorite photos.
McCaulley is originally from Tyrone but moved to the Lancaster area in middle school. He graduated from Manheim Central High School where he participated in wrestling and track and field. He moved back to Tyrone in 1992 and is currently employed as a industrial electrician at ACCO Brands, formerly MeadWestvaco in Alexandria.
McCaulley has three children, Ashley, who graduated from Ephrata High School, Christopher and Katelyn, who both attended Tyrone, and two grandchildren, Arianna and Isaiah.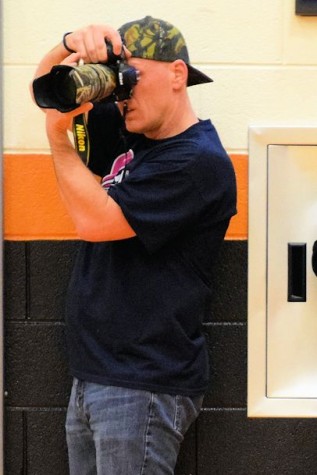 Leave a Comment
About the Contributor
Kendra Wertz, Photo Editor
My names Kendra and I'm a senior at Tyrone Area High School. It's my second year of being a part of Eagle Eye! I'm planning on going to college next...