Letterman Jackets Making a Comeback
The iconic American invention is being seen more often in the halls of TAHS
High school fashion trends come and go, and not so long ago it looked like the classic American varsity jacket was on its way out.
Once commonly spotted at bus stops and bleachers across the country, in the last decade varsity jackets seemed to be more the exception rather than the rule.
But varsity jackets have been making a comeback in high fashion, with celebrities like A$AP Rocky, SZA, Rhianna, and Jacob Elord being seen sporting this classic look.
"
They are likely making a comeback because kids want something physical to hold onto from high school. They also look pretty sick
— Senior Ross Gampe
The jackets have even been seen in luxury stores like Burberry, Louis Vuitton, and Off-White. Even the brand Teddy Fresh has its own spin on the iconic varsity jacket.
This, in turn, has led to a resurgence of the fashion trend among high school students.
"I think they are popular because lots of movies depict the main characters wearing them and the main characters are the ones everyone wants to be like, so that's part of it," said Tyrone freshman Miles Weber, who purchased a varsity jacket just this year.
"The other part is because it seems like the world is also going retro with its fashion, for example, the perm, mullet, and bowl cuts are back," said Weber.
Tyrone senior Ross Gampe recently got his own varsity jacket. Gampe, a three-sport athlete who plans to play football in college, said he wanted it as a reminder of his high school athletic career, something he could keep to remember the good times he had playing sports and representing his school.
"They are likely making a comeback because kids want something physical to hold onto from high school. They also look pretty sick," said Gampe.
For junior band member and softball player Kaleigh Brodzina, having a varsity jacket is both for the memories and because retro fashion is in style.
"I wore my mom's jacket until now and that's what I want to do with my kids one day. Anything from the '80s and '90s is back in style lately," said Brodzina.
Students can order an official Tyrone varsity jacket from TAHS Band Director David Hock, who has been helping students order jackets for the past ten years. Hock said he has seen a slight increase in orders over the past few years.
"When I started there were a lot of kids, but then numbers dwindled for a few years, but [orders] have picked back up recently," said Hock.
The jackets range in price from $200 to $250 depending on the type of jacket and the amount of lettering on the jacket.
According to Hock, 20 students ordered jackets this school year, the most since he started ordering them for students in 2013.
The varsity jacket itself is an American invention and has a long history that dates back to the mid-1800s.
Students at Harvard University are often credited with inventing the varsity jacket. The first well-known example was worn by the Harvard baseball team in 1865, but it wasn't really a jacket. It consisted of a heavy wool sweater that the players themselves embroidered the letter "H" in the center. The look then spread to many Ivy League schools like Yale, and Princeton.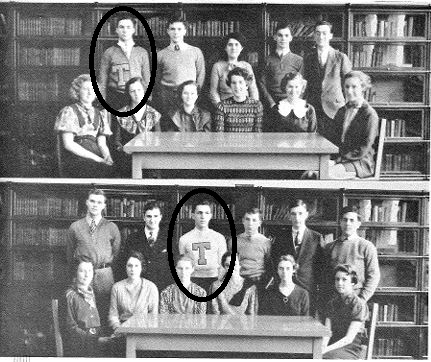 From there the style caught on and has been a part of American fashion culture ever since.
In a survey of vintage Tyrone yearbooks, the oldest photo found of a Tyrone varsity sweater/jacket was from 1935.
Back when many current Tyrone teachers were in high school in the 1980s, 1990s, and early 2000s, varsity jackets were a big deal.
Tyrone Class of 1997 graduate and current TAHS phys ed teacher Marcus Owens said that he still has his varsity jacket from high school.
"When I was a student nearly every varsity athlete purchased and wore their jackets with honor, both the boys and girls. I'm glad to see that they are making a comeback and from what I've seen, they are nearly identical to the one I own," said Owens.
English teacher and TAHS Class of 2000 grad Jonathon Holmes, a member of the band and drama club, also purchased a jacket in high school and still wears it on occasion.
"[It's] more of a keepsake now, but it does still fit, and I do wear it once in a great while. It's insanely warm and fits even better than it did my senior year. It's a great keepsake that has a ton of memories in it. It's definitely one of the most significant mementos from high school," said Holmes.
"
My varsity jacket reminds me of my teammates who became forever friends, bus trips full of laughter, and athletic contests that brought out a range of intense emotions
— TAHS teacher Beth Cannistraci
High school biology teacher and former Tyrone basketball player Beth Cannistraci still has her jacket from the late 1980s. She typically does hold on to things, but when she sees her high school varsity jacket a flood of fond memories comes back.
"My varsity jacket reminds me of my teammates who became forever friends, bus trips full of laughter, and athletic contests that brought out a range of intense emotions," said Cannistraci.
Tyrone elementary learning support teacher Adria Jeffery did not graduate from TAHS, but she has a touching memory associated with her high school varsity jacket.
"When I first received it, my family was going through a very hard time financially. All my friends were buying them, and I felt left out. The person in charge of sizing and handing out order forms surprised me by secretly purchasing the jacket and giving it to me as a gift. It became my main jacket from high school through my early years in college. It now serves as a lovely reminder of the kindness of others and how even the smallest of desires matter," said Jeffery.
TAHS Class of 1978 graduate Ellen Hull still has her varsity cheerleading jacket…and yes, she still wears it to football games.
"I kept it because it represented, in part, who I was during my high school days. Making the squad was an accomplishment as only two girls out of 75 tryouts from 7th grade made the team. I was one of those two girls. We had a fun group of girls on the squad and we had a good time cheering and being supportive of the boys," said Hull.
Of course, even though a varsity jacket might have great sentimental value, not everyone who still has theirs chooses to take it out of the closet.
Tyrone alumni and high school English teacher Stephen Everhart has a complex view of his old jacket, which, he added, he does still own.
"After graduation, most guys put them in the closet. It is a bit of a stigma to wearing them [in college]. It signals that you are a sort of 'High School Charley.' Ironically, as soon as your diploma is in hand, the varsity jacket becomes a symbol of stunted adolescence and immaturity rather than manhood. The longer you wear it, the sadder, and creepier, you are."
But regardless of whether they are worn or not after high school, like the yearbooks that almost everyone has on their shelf, varsity jackets are generally kept and cherished by those who own them.
Orders for official Tyrone varsity jackets are made in the fall of each school year, so students who don't yet have one should visit the varsity jacket info page or see Mr. Hock.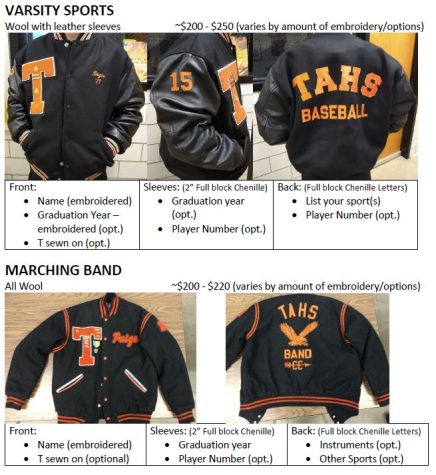 View Comments(1)
About the Contributor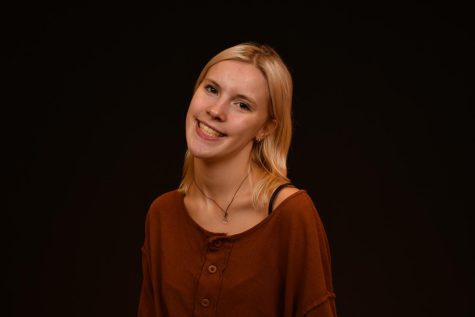 Alexa Rachau, Staff Writer
This is Alexa, she is currently a senior this year and this is her first year in Eagle Eye. She enjoys spending time with her family and friends and also...