Lady Eagles Season Comes to a Close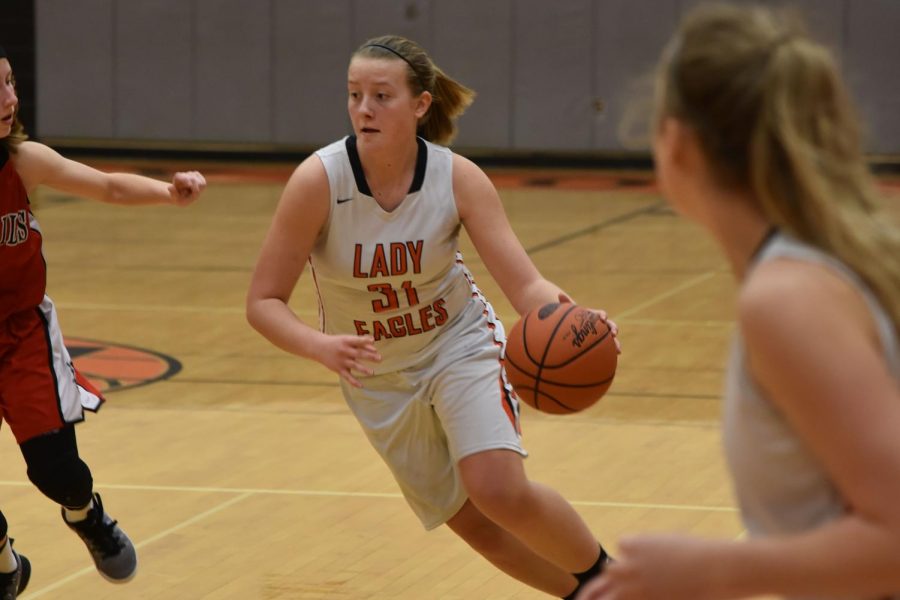 The Lady Eagles fell by a score of 63-46 to Mohawk in the first round of the PIAA Class 3A playoffs at Peters Township High School Friday night.
Sydney Shaw drained five 3-pointers and finished with a team-high 17 points. Senior Emily Lehman finished with 9 points with 7 of them coming from the stripe, but it wasn't enough to stop the high powered Warriors offense.
"I think Lehman, Shaw, and all the girls definitely gave it their all," Rhoades said. "But when you get down that big, it's too much to overcome."
In the first quarter, Tyrone was even with the Lady Warriors ending the frame 9-9.
The Lady Eagles took a punch in the second quarter when Mohawk outscored them 19-8 to build up a double-digit lead at the half.
"
For us to keep playing hard, that meant a lot to us as a program,"
— Coach Rhoades
Reilly Ronan gave the Lady Eagles some momentum when she shortened the deficit to 9. However, Tyrone committed a foul with less than a second left, and Mohawk made both free throws to send the Eagles into the locker room down 11.
The Lady Warriors knocked down five triples in the first two quarters. Sydney Shaw and Lindsay Fusco each had a three of their own for the half.
"We had opportunities early to get a lead or maybe even up close to double digits, and we missed some shots," said Coach Luke Rhoades. 
Tyrone went into the second half ready to play and appeared capable of hanging with the Lady Warriors early on, but the Mohawk offense was too much to keep up with.
"There were a lot of things that we could've done differently. We didn't make shots when we needed to, " said senior Emily Lehman.
Lindsay Fusco beat the third-quarter buzzer with an impressive runner from the foul line, but the damage was already done.
"They were more skilled than us and shot better than us, but I think we hustled just as hard as they did," Rhoades said. "For us to keep playing hard, that meant a lot to us as a program."
Shaw made four-of-five field goals in the second half, and senior Emily Lehman battled in the post until the end of her final high school game.
The Lady Eagles made their second straight state playoff appearance after exiting in the first round of the PIAA tournament last year.
BOX SCORE
TYRONE (46): Kosoglow 1 1-2 3, Fusco 2 0-0 5, Wagner 2 0-0 4, Shaw 6 0-0 17, Lehman 1 7-10 9, Johnson 1 2-2 4, Ronan 2 0-0 4 Kohler 0 0-0 0. Totals 15 10-14 46.
MOHAWK: (63): Westcott 1 0-0 2, Carnuce 8 1-3 19, McCutcheon 5 4-4 16, Meyer 4 0-0 8, Stelter 2 0-0 5, Lape 4 0-0 11, Veon 1 0-0 2, McDaniel 0 0-0 0, Julian 0 0-0 0, Schmidt 0 0-0 0, Shiderly 0 0-0 0. Totals 25 5-7 63.
SCORE BY QUARTERS
Tyrone 9 8 10 19 — 46
Mohawk 9 19 22 13 — 63
3-point goals: Tyrone 6 (Shaw 5, Fusco); Mohawk 8 (Lape 3, Carnuce 2, McCutcheon 2, Stelter).
Records:  Tyrone (17-10); Mohawk (20-5).
About the Writers
Michael Stoner, Sports Editor
Hi, I'm Michael Stoner. I'm currently a senior at Tyrone Area High School, and this is my third year as a member of the Eagle Eye staff. This year,...
Emily Lehman, Staff Writer
Hi, my name is Emily Lehman and I am a senior at TAHS. This is my first year as an Eagle Eye staff member. Sports take up most of my life. I am on both...