Lady Eagles go 0-4 Against Four Tough Teams
Freshaman Arian Hicks belted her first career home run against Philipsburg
The Lady Eagles went 0-4 after four tough games on Friday, Saturday, and Monday.
Tyrone 2   Philipsburg 18
On Friday the Lady Eagles took on the Lady Mounties of Philipsburg for the second time this season and despite the lopsided final score the Lady Eagles were in the game at the outset.
Tyrone captured the lead in the first with a double from senior Anna Baran to start the inning.  A single from junior Allison Hosko drove in Baran for a 1-0 Tyrone lead.
"We were winning 2-0, on a homerun from Arian Hicks, and then the game got away from us," said head coach Peter Baran.
Baran was very strong in the circle in the first inning, only allowing one hit and no runs.  
In the top of the second inning, freshman Arian Hicks smashed the first home run of her career off of Philipsburg junior Maggie Peck.
"It felt awesome to get my first out-of-the-park home-run," said Hicks.  "I couldn't have done it without my team and family."
After the top of the second inning, there were multiple pitching changes, and the Lady Mounties captured sixteen runs at the end of the second to end the game early.
SCORE BY INNINGS
Tyrone 1 1 0 XXX X- 2 4 2
P-O 0(16)2 XXX X-18 16 0
2B-Baran (T); Henry, Harris, Thal (PO).
HR-Hicks (T); Henry, Hayward, Harris (PO).
Multiple hits-Baran 2 (T); Thal 3, Harris 3, Peck 2, Henry 2, Granville 2 (PO).
RBI-Hosko, Hicks (T); Thal 6, Harris 3, Peck 2, Henry 2, Hayward, Lucas, Karns, Granville (PO).
WP-Peck (PO). LP-Baran (T).
SO-Baran 2, Eaken 1 (T); Peck 5 (PO).
BB-Baran 1, Eaken 3 (T).
Tyrone 0   Claysburg-Kimmel 9
Baran doubled and gave the Lady Eagles one of their only hits in their first game against the Lady Bulldogs in the Southern Huntingdon softball tournament on Saturday.
Just like the Philipsburg game, the Lady Eagles had many errors to lead them to another tough loss to a quality team.
The Lady Bulldogs were able to capitalize on all of the errors and score six runs in the first two innings.
Sophomore Emily Hamer, junior Hailey Durbin, senior MacKenzie Eaken, Hosko, and Baran were all collected a hit a piece off of the Lady Bulldogs' pitcher.
"Errors are a continuous problem," said junior Madi Grazier.  "We need to find someway to stop 6 errors from happening a game.  If we do that, we can be very successful."
SCORE BY INNINGS
Claysburg-Kimmel242 001 0-9 11 2
Tyrone000 000 0- 0 5 3
2B-Baran (T).
3B-Garver (CK).
Multiple hits-Morgan 2, Claar 2, Garver 2, Fickes 2 (CK).
RBI-Morgan, Claar, Garver 3, Kennedy, Dively (CK).
WP-Knisely. LP-Baran.
SO-Knisely 4, Baran 2, Eaken 1
BB-Baran 5, Eaken 4.
Tyrone 4   Homer Center 8
Freshman Megan Tepsic doubled and Hosko tripled as the Lady Eagles fell 8-4 to the Homer Center Lady Wildcats.
Eight Lady Eagles scattered ten hits across seven innings, but it wasn't enough to hold the Lady Wildcats from collecting the win.  
Sophomore Grace Gensimore, Grazier, and Baran each had two hits apiece and many RBIs.
"The errors got to us again," said Baran.  "Even though we managed to only have three errors this game, Homer Center did a very good job at capitalizing on them to give them the lead, and to also play strong defense as well."
"Both games were well pitched by Anna and MacKenzie," said P. Baran.  "We played pretty good defense, but couldn't get many hits."
SCORE BY INNINGS
Tyrone001 300 0-4  10  3
Homer Center004 301 0-8  7  1
2B-Tepsic (T).
3B-Hosko (T).
Multiple Hits-Gensimore 2, Grazier 2, Baran 2 (T).
RBI-Hamer, Gensimore, Grazier, Eaken (T).
WP-Worchester. LP-Baran.
SO-Worchester 9, Baran 5, Eaken 2
BB-Worchester 1, Baran 2
Tyrone 2   Central 12
Hamer tripled and Gensimore and Baran knocked in a run each to give the Lady Eagles their only runs of the game against the Central Lady Dragons.
"This was one of the best games Anna has pitched," said Baran. "We were only down 4-1, had the bases loaded, and we made two huge base-running errors, and then we had one bad inning, defensively."
Baran was very strong in the circle striking out five and not giving up a single walk.  Baran was able to hold the Lady Dragons from scoring many runs in the first few innings, but many base running and field errors cost the Lady Eagles the game.
In the bottom of the fourth, the Lady Eagles had the bases loaded and no outs.  This was no problem for Central catcher Cassie Mock, who made two great plays picking off two Lady Eagles runners at third and second to give the Lady Dragons back to back outs, ending the rally.
The Lady Eagles will be back in action Thursday, April 28th in Huntingdon against the Lady Bearcats at 4:30.
SCORE BY INNINGS
Central103 071 X-12 10 2
Tyrone001 001 X- 2 4 5
3B-Smith (C); Hamer (T).
Multiple hits-Ritchey 2, Boyles 2, Berzansky 2 (C).
RBI-Smith 3, Berzansky 2, Boyles, Ritchey 2 (C); Gensimore, Baran (T).
WP-Boyles. LP-Baran.
SO-Boyles 2, Thompson 3, Baran 5, Eaken 1.
BB-Boyles 2, Thompson 1, Eaken 1.
Leave a Comment
About the Writer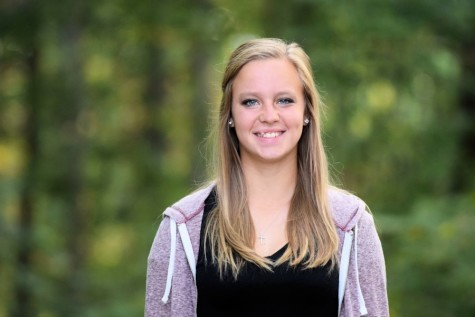 Anna Baran, Sports Editor
Hi! My name is Anna and I am in 12th grade. My favorite things to do are play softball and soccer. Sports are my passion. I enjoy playing all sports, whether...