Juniata Valley Leads Area Schools in Recycling
One local school district provides a recycling model that could be replicated at TASD
While the Tyrone Area School District lacks a recycling program, one other local school district has had an effective district-wide recycling program for the past nine years.
The Juniata Valley School District in Alexandria is much smaller than Tyrone but has developed a program to recycle almost all of its paper and plastic waste produced at their schools.
Juniata Valley's high school Sustainability Club was established in 2008 and is made up of primarily sophomores. It began as a student-led effort in 2007 when sophomore Fiona Grugan decided there was not enough being done in the school on environmental issues.
"In 2007 I was looking for a recycling bin in the school and didn't find one," said Fiona's mother, Pamela Grugan. This led to the establishment of the program. 
Juniata Valley's high school Sustainability Club has only five active members but is able to do a weekly collection of paper and plastic recyclables in the district.
"With the assistance of Mrs. Grugan and our many student volunteers, it is a smoothly run operation," said Juniata Valley Superintendent Micheal Zinobile. "Mrs. Grugan has established a great working relationship with our students and staff in organizing and maintaining our recycling program. We certainly appreciate her efforts and willingness to act as an advisor for the program."
Every Wednesday, the sixth graders, with the help of high school Sustainability Club members, collect recycling bins from every elementary classroom. They then bring the recycled paper to the recycling dumpsters. The high school also collects and sorts its paper and plastic recyclables. 
The plastic is cleaned by the Sustainability Club and then put into the recycling dumpster.
The entire process usually takes only a few hours a week to complete.
"Our students really enjoy being part of the program," said Zinobile. "[It] gives our students the opportunity to work cooperatively as a team and gain an understanding of group management and organization for a worthwhile service. We believe that important life skills are learned through participation."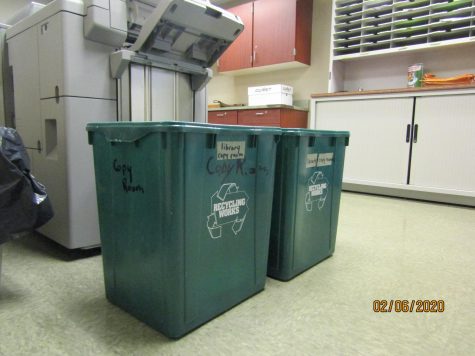 According to Zinoble, after the initial start-up costs of purchasing the recycling containers, the program costs the district only $112 per month. 
While it is likely easier and less costly at Juniata Valley due to the differences in size, the fact that this effort has been supported and aided by the school administration and students is an indicator that a program like this can be done.
Tyrone, which has far more active clubs and student body than JV, is behind when it comes to recycling.
Tyrone Area School District seems receptive to a recycling program but there are currently only a few students asking for such a change, as well as no actual push from the administration.
Juniata Valley, by contrast, has a community volunteer willing to lead the recycling program, a small group of committed students, and the support of the school administration.
"Mrs. Grugan has always been an idol for a lot of students. She always taught us since elementary school how we can do little things to help our planet. I love that everything we do in the club helps our planet," said JV Sustainability Club member Bryan Hern. 
The recycling effort has also led to other environmental sustainability projects at the school. 
In 2012 the Sustainability Club, with the help of JVHS faculty, constructed two raised bed vegetable gardens in front of the elementary school.
Juniata Valley's program could serve as a model for other schools in the area, like Tyrone, that lack school-wide recycling.
"School pride is certainly evident in our overall recycling efforts. We want our students to understand the importance of recycling and its positive impact on our environment. We want to ensure that our students will continue recycling efforts in their own homes and communities well into the future," said Zinobile.
View Comments (1)
About the Contributor
Mario Grugan, News Editor
Mario is a Senior at Tyrone Area High school. If you were to see Mario in the hallway you would first notice his messy hair which wouldn't look out of...