Historic Tyrone Armory to Reopen as Community Center
Tyrone's Joshua House is renovating the facility for multi-purpose use
The former National Guard Armory in Tyrone has a new lease on life.  What was once a training ground for soldiers will now be a community center dedicated to sports and faith.
The Tyrone Armory was constructed in 1911 and is listed on the National Register of Historic Places. Completed in 1918, the former armory first housed the Sheridan Troop cavalry unit and later served Charlie Company, 2nd Battalion, 112th Infantry Regiment, 56th Stryker Brigade Combat Team.
According to Director Jim Kilmartin, the Joshua House has been thinking about the Armory for years.  In 2004, Tyrone lost its YMCA and all of the amazing programs that it offered.  This new facility will help to fill that void.
"
The Armory is a tremendous facility with great heritage in the Tyrone community "
— Jim Kilmartin
"This will not fully replace [the YMCA], but will be an expansion of what is already done at Joshua House," said Jim Kilmartin.
The idea of buying it in 2012 was evaluated but, according to Kilmartin, it didn't work out financially.
"The Armory is a tremendous facility with great heritage in the Tyrone community," said Kilmartin "There is much to do but the plan is to use it for Joshua House events and activities, community programs and open hours."
The new facility will be used for basketball, volleyball, soccer and deck hockey.  It can be used for numerous other games and programs like dodge ball tournaments and concerts.
The main court is 80' x 50' with a 5' border and has its own unique history.  It was purchased from a company that works with the NBA.  It was used as a the practice court for the 2016 NBA All Star Game in Toronto.  The court has already had many great stars of the NBA play on it including Steph Curry, Klay Thompson, Draymond Green, James Harden, Anthony Davis, Kevin Durant, Russel Westbrook, and many more.
The court will be set up for use as a full basketball court or two smaller courts that run side to side. Volleyball lines have also incorporated. A walking/running track will run along the outside of the main court.
The Joshua House Armory will be an asset to the community and many people are excited for it. It will hopefully help kids stay out of trouble with all the activities that ill be provided.
"There are plans for a large kitchen so that we can serve meals for events.  It will also be used as a concession stand. Beside the kitchen there will be a cafe seating area off to the side," said Kilmartin.
The back of the facility is called the 'stable area' where the military used to keep their horses.  "We are looking at using this area for battling cages and storage. There is also an office area with four rooms and a second floor section that may be fix up for wrestling," said Kilmartin.
Plans are still in the works to decide how and when it will be open to the public.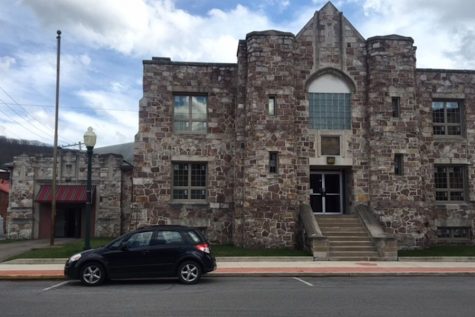 View Comments (2)
About the Contributor
Jamal Hicks, staff writer 10
Hello world! My name is Jamal William Hicks. I am 15 years old. This is my first year as a staff member of the Tyrone Eagle Eye News. I am happy to be...