Happily ever after: high school sweethearts who still celebrate Valentine's Day…together!
Members of the TASD staff talk about marrying their high school sweethearts
You see them waiting for each other after class, walking the halls hand in hand, lingering at each other's lockers.
They're high school sweethearts.
And even though they might think they'll be together forever, these days marrying your high school sweetheart is usually the stuff of fairy tales.
The fact is Americans are getting married later and later. The average age of brides in the United States is 27, and 29 for grooms, up from 23 for women and 26 for men in 1990 and 20 and 22 in 1960.
So the chances of marrying your high school sweetheart is statistically pretty small and getting smaller.
But it does happen.
We asked the faculty and staff at the middle and high school how many of them ended up with their high school sweethearts and we received responses from six couples, five of whom are still married!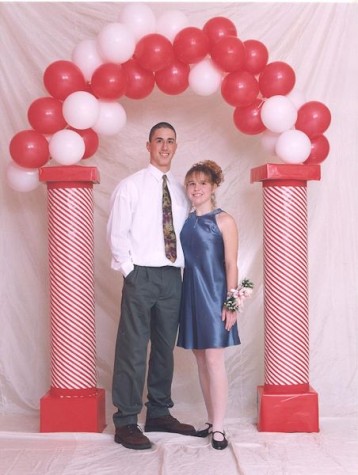 Learning Support teacher Jessica Anderson and her husband Corey aren't just high school sweethearts – their relationship goes all the way back middle school! Jessica was in 8th grade and her future husband Corey was in 7th grade at Tyrone Middle School.
"We officially met at wrestling districts held at Tyrone in the gym. My brother wrestled, and many students attended even if they didn't wrestle," said Anderson.
A few weeks later her future husband "asked her out" at lunch, but Anderson had to ask her twin sister for approval, because she had a crush on him too.
The couple spent many Friday nights together at school dances, a popular Tyrone hang out after sporting events.
At the time Mrs. Anderson had no idea that they would get married.
"Who thinks at age 14 that you will spend your life with that same person?" said Anderson, "It's crazy to think how much time has passed."
The couple continued their relationship through college, even though they attended different schools.
In 2005, the Andersons were married in Jamaica, and marked their ten year anniversary this July.
Fifth grade teacher Mrs. Kelsie (Bumbarger) Walter is a newlywed who just married her high school sweetheart Christopher in June 2014.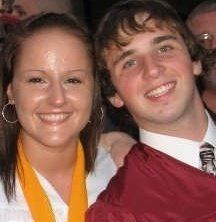 In 9th grade, the Walters met through the volleyball team at Altoona High School. After the girl's season was over, she managed the boy's team, which is how she got to know Christopher.
Even though many of their friends were convinced that the Walters would get married someday, the two were initially just friends with no romantic interest in each other.
In fact, Mrs. Walter played matchmaker and set Christopher up with one of her friends.
The summer before college, she changed her mind about their relationship.
"About half way through the summer I decided that I had feelings for him. But he was still dating my friend, so I never told him. About a week before I [moved away for college], I decided that I might as well tell him," said Walter.
"He came to move me in to my dorm room. When he was leaving I gave him a CD that I made with a bunch of love songs that reminded me of our lives. I made a collage and wrote a letter explaining all of my feelings. After [reading the letter and] listening to the CD he broke up with his girlfriend and we started dating," said Walter.
The couple will celebrate their first wedding anniversary June 28, 2015.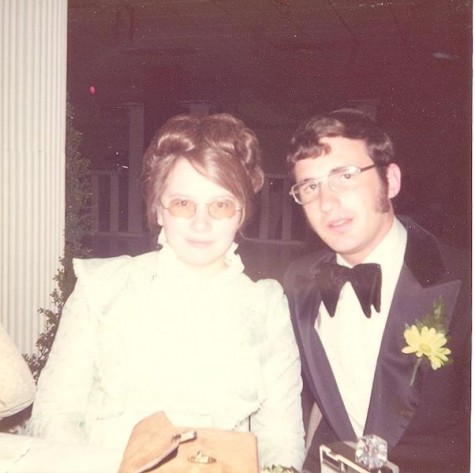 High school science and math teacher Kathy Holsinger married her high school sweetheart in 1976.
Mrs. Holsinger and her husband met while camping with her family when she was in 11th grade.
They dated throughout their junior and senior years, although they lived miles apart.
Mrs. Holsinger attended Jersey Shore High School and Mr. Holsinger went to Central High School in Martinsburg.
The couple got married between Holsinger's sophomore and junior year at Lock Haven University and will be celebrating their 39th year of marriage on July 10th, 2015.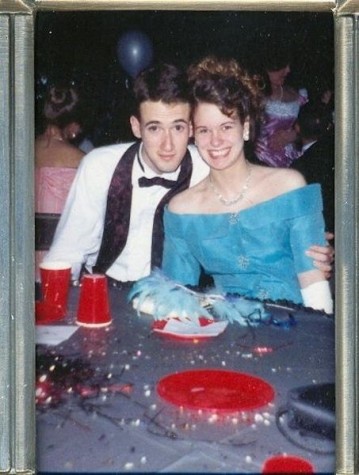 Middle School Principal Kristen Pinter and her husband Brad, who teaches psychology at Penn State Altoona, have known each other since middle school but they didn't date until their 11th grade chemistry class.
"We were friends who had common 'relationship' issues with our current boyfriend/girlfriend. We realized we made each other laugh and had a lot in common," said Pinter.
Mrs. Pinter remembers her husband being very kind and always making her laugh.
After high school the Pinter's attended the University Of Dayton, Ohio together. The couple has been married for 18 years, with an anniversary coming up in June.
Middle School science teacher Beth Cannistraci married her high school sweetheart almost 19 years ago.
The Cannistracis met through classes and sports at Tyrone High School during her senior year. Her future husband Jim was a junior.
"My best friend and his best friend started dating first," said Cannistraci, "and the four of us spent a lot of time together."
"I heard from my friend that he was going to ask me out, but apparently he lost the nerve, so the next week in school I avoided him like the plague!"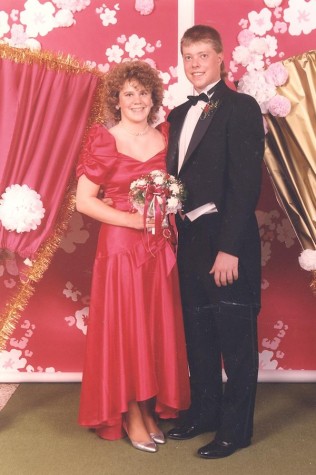 "I liked him as a friend, but I did not want to date him. Because he was such a great guy, I didn't want to hurt his feelings either," said Cannistraci.
"Anyhow, by the time he asked me out I could not say no and the rest is history."
In June they will celebrate their 19th wedding anniversary, although they have spent 27 years together.
School nurse Julie Patton also married her high school sweetheart. The two met as lab partner in her high school chemistry class.
"I dated him even after he burned my stockings off with sulfuric acid," said Patton.
Of course, not every couple lives "happily ever after."
"Is it shocking that we are now divorced?" added Patton.
Although the statistics show that many do not marry their high school sweethearts, some staff members at TASD have beaten the odds.
Maybe you and your sweetheart can too!
Leave a Comment
About the Contributors
Anna Baran, Sports Editor
Hi! My name is Anna and I am in 12th grade. My favorite things to do are play softball and soccer. Sports are my passion. I enjoy playing all sports, whether...
Mary Beth Raabe, staff writer
My name is Mary Beth Raabe. I am sixteen years old and a junior at Tyrone Area High School. I am involved in many extra-curricular activities including...