Tyrone Cheerleaders Go Gold For Childhood Cancer
The first home football game of the year will help to fight childhood cancer, the number one disease killer of children in America.
The Tyrone Golden Eagles' home football game this Friday has been designated as the first-ever Go Gold for Childhood Cancer Game and will help raise money and awareness for the Brian Morden Children's Cancer Foundation. Local families who have benefited from the Brian Morden Foundation will be honored at the game. 
"
"I think raising awareness for Childhood Cancer is the most important goal for us this year."
— Jess Anderson
TAHS Student Council will sell gold ribbons and bracelets and the cheerleaders will sell "Go Gold" T-shirts for $15.
"I think raising awareness for childhood cancer is the most important goal for us this year," said the organizer of the event and Tyrone cheerleading coach Jess Anderson. "Proceeds from those sales will be donated to the Brian Morden Foundation."
The foundation was founded in honor of a local 19-year-old who lost his battle to Ewing's Sarcoma in 2003. The foundation has three main goals: fund Ewing's Sarcoma and childhood cancer research, support patients, family, and staff of pediatric oncology units, and provide funding for "Brian Morden Memorial" higher education scholarships.
Over the summer, Tyrone cheerleaders were approached by a school board member and asked if they could dedicate a game to the Go Gold movement. Since then, the cheerleaders have been collaborating with the Brian Morden Foundation to raise money for childhood cancer. 
"I have been in touch with the founder [of the Brian Morden Foundation], Dawn Morden, to organize the schedule of the game. Addie Miles was supported by the Brian Morden Foundation over the past year. We also have another student, Liam Wirtner, a first-grader in the district who has been sponsored by the foundation as well! Both will be honored at the game this week," said Anderson.
Other surrounding schools, such as Bellwood, Altoona, and Hollidaysburg are also sponsoring a Go Gold game to inform people and to help continue the fight against childhood cancer.
"It is exciting to see other schools all working towards a common goal. They are also selling the same shirt in their school colors," Anderson said. 
Leave a Comment
About the Contributor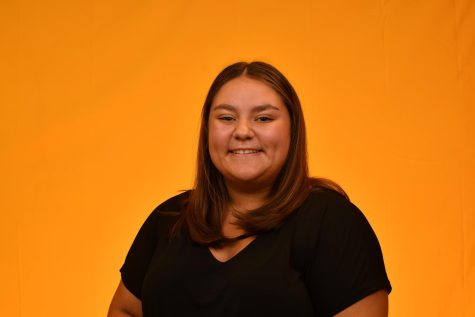 MacKenzie Hyde, Editor-in-Chief
This is MacKenzie! She is a Senior at Tyrone High School and this is her fourth year in Eagle Eye. After graduating, she plans to attend Penn State to...