Getz Earns 100th Career Win During 11th Year of Coaching
Tyrone resident and Varsity Head Coach Tom Getz has shaped the swim program over the years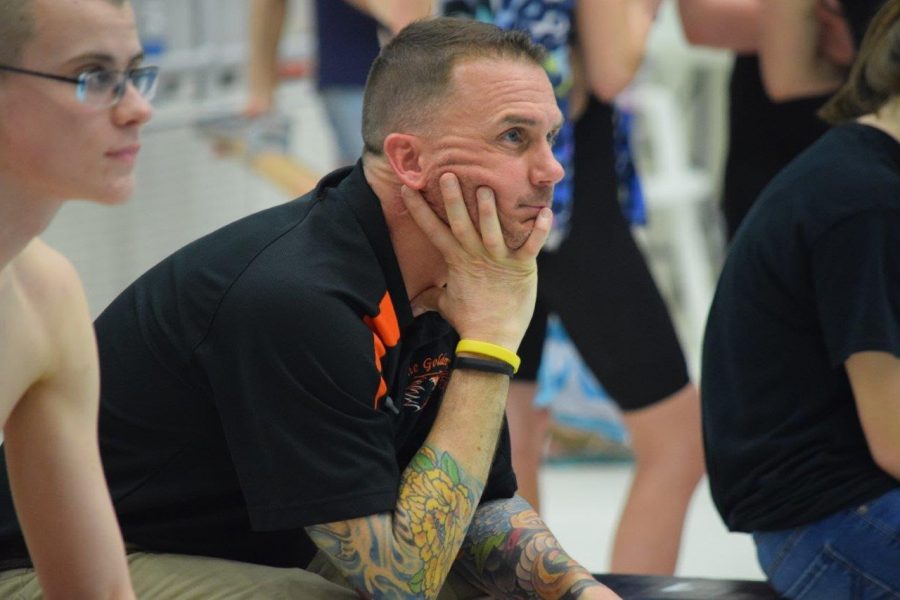 Varsity Head Swim Coach Tom Getz earned his 100th career win on February 8th, 2018 with a double win over visiting Northern Cambria.
"I'm blessed to have had great past coaches that laid groundwork plus great kids over the years. [The swimmers] need to want to push themselves. I'll give them the coaching, but they need to want it," said Tom Getz.
Tom Getz has been a Head Coach for 11 years, but his swim career started way before then.
He swam for the Tyrone high school team from his sophomore year to his senior year.
"[But] at this time, Tyrone did not have a high school swimming team.  We had to swim exhibition at meets in another school," said Krista Getz, Tom's wife, who swam from 1984-1989 for the YMCA.
After high school, Tom Getz had the courage to try out for the Penn State Swimming Team and made the cut. This was when he developed a passion for competitive swimming and coaching.  
"
Tom is deserving of a hundred wins because he was a major part in building the program into its perennial success, which was made especially difficult by the variable interest in the sport and the unfortunate end of the local youth program."
— Dustin Elder
After graduating from Penn State with a degree in early education, he later earned his Master's degree at Saint Francis in Human Resources.
Tom Getz has been involved with the program for so long that one of his former swimmers is now the Assistant coach of the swim team.
"He helped build the original program at Tyrone as a student, competed at the collegiate level, coached youth and intermediate swimming, and was a long time HS assistant before becoming Head Coach," said current Assistant coach Dustin Elder, who swam in high school from 2004-2009. "There is not a lot Tom hasn't seen in the pool, and he has a great ability to impart that knowledge on athletes."
"He has put in so much of his time and energy to bring out the best in his swimmers. He has guided these kids to reach their potentials," said Sharon Webster Hoover, who swam with Tom from 1984-1989. They also were lifeguards together at the outdoor pool. "He is now, has always been, and always will be a kid at heart. He is a fun-loving guy who also knows how to buckling down and putting in the effort will bring you results."
Over his 11 years of coaching, Tom Getz has impacted many swimmers.
"Tom always pushed you to do better. He wouldn't get mad at you for losing or adding time. He just told you what was wrong and how to improve. He believed in everyone," said Mikayla Harris, who swam from 2011-2015.
"
He never stopped loving what he was doing even when he lost a meet. He gave all he had to the team, school, and his swimmers in any and every circumstance."
— Ben McConnell
"Tom always wanted the team to do well and would work with the swimmers who needed help in order to elevate the team as a whole and he made practice/meets an enjoyable experience," said Rhett Everhart, who swam from 2010-2014.
Tom Getz has continuously demonstrated dedication to his swimmers and the team.
"Now that I'm out of high school and working full time, I never appreciated the sacrifice a coach made to a sport. Every afternoon, Tom would be at the pool. He would even meet you at the pool at 6 AM too. Few can continue this grueling process this long to achieve 100 wins. I just wish I was a part of his 100th win," said Ethan Nulton, who swam in high school from 2003-2008.
"Tom was a good coach because he cared about his team, about the sport of swimming, and about Tyrone. He always tried to make a personal connection with his swimmers. He never stopped loving what he was doing even when he lost a meet. He gave all he had to the team, school, and his swimmers in any and every circumstance," said Ben McConnell, who swam from 2013-2016.
"He always gave us harder sets and challenged us to swim faster. Whether we won or lost, he always had something good to say about the way I swam and how I could improve. He believes in the sport of swimming and he believes in the kids he coaches," said Mary Beth Reese, who swam for the YMCA from 1989-1994.
Tom Getz even created special memories with many of his swimmers.
"My favorite memory with Tom was every time I came off the podium at districts he'd be the first one standing there to congratulate me and then the first to critique my swim for the next year," said McConnell.
"The memories I have from swimming I will remember forever. I hope Tom knows that," said Elder.
Tom Getz impacted his swimmers outside of the pool as well.
"
It's a great program for the school to have and I'm sure Tom will keep doing a good job and take the team to new heights"
— Rhett Everhart
"Working with Tom has been a special experience. He was my coach from 8 to 18, pushing me to become a better swimmer, so having the opportunity to stand alongside him on deck is tremendous. He's had such a large impact on me as a swimmer that it's made me want to learn to do the same," said Elder.
"Tom really meant a lot to me in more than just the pool. We were neighbors as I grew up and I consider him a good friend. While he certainly influenced my swimming career, he also got me to liking his precious Eagles at a young age. For two decades now, I almost resented him for making me an Eagles fan, but this year, it finally paid off. Fly Eagles Fly!" said Ethan Nulton.
Tom Getz has devoted over 25 years to building the swim program in our town. The swim team, parents, and community thank you for all of your hard work and dedication.
About the Contributor
Hannah Gampe, Editor in Chief
Hello! My name is Hannah and I'm (finally) a senior at TAHS. I hope to be writing the swim stories and other student and alumni spotlights. This is my...