From the Halls of TAHS to the Operating Room- Dr. Matthew Newlin
Newlin is one of two 2017 Distinguished Alumni Award winners
Being a surgeon is not an easy job, and there are times when Dr. Matt Newlin's days and nights run together. But Newlin has been very successful throughout his life and continues to be a talented, hard-working doctor who takes his job to heart.
Valedictorian of his 1987 Tyrone High School class, his yearbook quote was "Matt's ambition in life is to lead a life that is successful." By all measures, Newlin has lived up to that goal, recently adding Tyrone Distinguished Alumni Award winner to his already impressive resume.
"A lot of times, in medicine, it can be pretty depressing. You can operate on someone for cancer and cut that cancer out but you still have a diagnosis of cancer. There are a few operations that you can change someone's life truly for the better and the smiles and hugs I get from that are truly the best part," said Newlin.
"
The successes and changes in people's lives; that's what makes it [being a doctor] great"
— Dr. Matt Newlin
Dr. Newlin describes his favorite part of his job as being able to "change someone's life for the better."
While a student at Tyrone, Newlin was involved in many clubs and organizations. He was on the varsity basketball team, varsity tennis team, National Honor Society, junior class officer, and Key Club. He was also the Editor-in-Chief of the '87 Eagle Yearbook and received many awards throughout high school including the Todd Narehood award in 1985 and a National Merit Scholarship Letter of Commendation. His most special achievement was attending the 1986 Pennsylvania Governor's School for International Studies.
While he is a surgeon now, that was not his original goal coming out of high school. After high school, Newlin went to Harvard University as an economics major. While at Harvard, he became president of the Harvard Classic Basketball Team and graduated with Honors in 1991. After three years in an analyst in investment banking, he made the decision to enroll at Jefferson Medical College to continue his education, and eventually become a surgeon. After his graduation in 1998, he started residency training in General Surgery at Riverside Methodist Hospital
His journey traveled through Tyrone, Philadelphia, and Ohio, but eventually brought him back to UPMC Altoona to continue his practice in surgery.
This talented Dr. Matthew Newlin specializes in gastrointestinal surgery, bariatric surgery, and advanced laparoscopic surgery.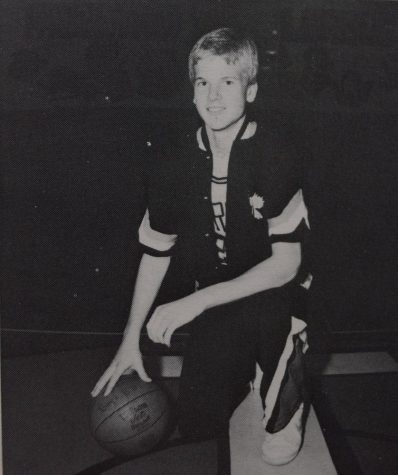 "I like to operate, to cut, and sew, and put things back together," Dr. Newlin said.
He also serves as a Chairman of the Department of Surgery at UPMC Altoona, holding many other important positions such as Medical Director of the Metabolic and Bariatric Surgery Program and Medical Director of the Robotic Surgery Program. Dr. Newlin is helpful at his place of work, church, neighborhood and even helps coach youth soccer and basketball.
His high school friends can describe him as smart, dedicated, and "most likely to succeed." His neighbors have described him as being polite, reliable, and have mentioned how he is a very involved father.
Newlin, his wife Laura, and his children, Noah and Olivia, can be found taking skiing trips or going on a jog on a nice day. Dr. Matthew Newlin is very involved in many things within his community, and his peers notice.
"I know a lot of Tyrone graduates and a lot of them are very distinguished, accomplished, and just as deserving so I was flattered and surprised when I heard when I heard I was named distinguished alumni," said Newlin. "The successes and changes in people's lives; that's what makes it [being a doctor] great."
Leave a Comment
About the Contributors
McKenzie Johnson, Features Editor




My name is McKenzie Johnson, I am a senior here at Tyrone and this is my first year in Eagle Eye News. Outside of school, you can find me at the...
Levi Walk, Photo Editor
Hi, have a moment? My name is Levi Walk. Add a "photography" on the end there and type that into the instagram search bar and you'll see two things:...