Tyrone's Veit Earns Trip to State FFA Competition
Veit is the first Tyrone "Star Farmer" to make it to states in many years
Tyrone Area High School senior and FFA Vice President, Madalynn Veit, qualified for states in Entrepreneurship.
Veit is the first Star Farmer to qualify for states from Tyrone Area High School in many years, and the first under adviser Tiffany Hoy.
"
Just by showing, breeding, shearing and devoting time everyday can provide good qualities of a Star Farmer
— Madalynn Veit
"Its a process of application, you then compete in your area, then you must win at regionals to move on to states," said Veit.
Veit started raising and breeding sheep since 2014. In the beginning of her senior high school year, she began the process of competing for Star Farmer-Entrepreneurship. Using the Agricultural Experience Tracker (AET), Veit must record the time and work that she spends with her Border Leicester breeding sheep.
"Just by showing, breeding, shearing and devoting time everyday can provide good qualities of a Star Farmer," said Veit.
To get to states, Veit first had to win within the Tyrone Agricultural department in the school district. Two judges reviewed the Star Farmer application that Veit submitted. Being the only high school sheep farmer in Tyrone, Veit then moved on to regionals. At Hoss's in Carlisle, Pennsylvania, Veit sat in front of three judges for an interview.
"I didn't know what to expect walking into Hoss's. I was so nervous that I could barely eat. Having my family come with me made it less stressful," said Veit.
As Madalynn spoke about her experience with the judges, they asked her a series of questions from what she feeds her sheep to the price of her Border Leicester wool.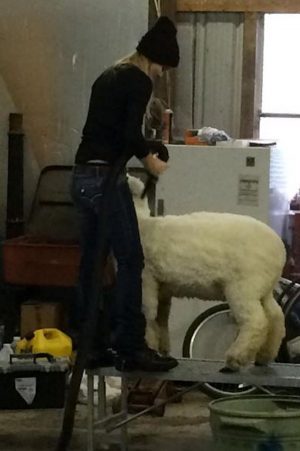 "They interviewed another competitor before me, and when we both finished they called us back to a room. We sat down and it was announced that I was moving to states," explained Veit.
After the judges declared the winner, they sat down with Madalynn for five to ten minutes to advise her on her application. They suggested ways that she could improve her application to make it more competitive.
"As soon as I walked out of the building I called my Ag adviser, Mrs. Hoy. I anxiously told her 'we have a lot of work to do by December 5th.' I went in to school the next day and Mrs. Hoy and I shared disbelief and excitement through laughter," said Veit.
Leave a Comment
About the Contributor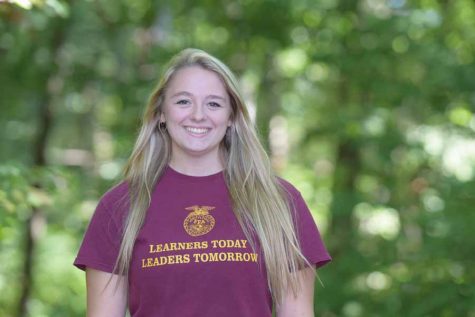 Jaylon Beck, News Editor
As a second year Eagle Eye staff member and first year News Editor, junior Jaylon Beck seeks to expand Tyrone's knowledge of their own FFA chapter....