February Golden Raffle Results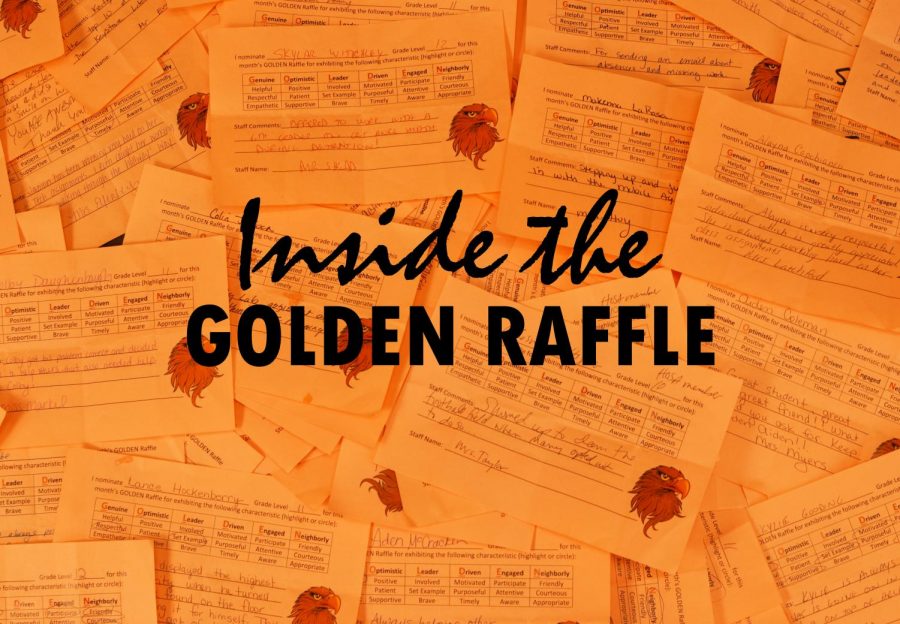 The Golden ticket raffle happened again in the month of February a few weeks ago. The raffle is a monthly event to reward students for being GOLDEN, an acronym created by the Golden Revolution student committee to encourage a positive school climate.
GOLDEN stands for Genuine, Optimistic, Leader, Driven, Engaged and/or Neighborly.
Students can be nominated each week by teachers and staff for exemplifying one or more of the GOLDEN characteristics.
The winners are randomly drawn from all the nominations. Prizes for the February raffle were $25 gift cards to local business and popular online retailers.  As the names are drawn, the forms are read so that the students know why the winners were nominated.
In February 2018, 131 students were nominated for the raffle less than last month. The Eagle Eye was able to obtain and analyze all of the nominations made in the month and found some interesting statistics.
Each nomination in the February raffle had roughly a 1 in 33 chance of winning.
The winners were junior Trinity Weyant, freshmen Riley Barndt and Haleigh Sprankle, and sophomore Maddi Cherry.
The nominations were made by 36 different teachers and staff members.
The teachers with five or more nominations for the month were Mrs. Smith, Ms. Hoy, Ms. Grugan, Mrs. Marasco, Mrs. Canniastci, Ms. Myers, Mr. Funicelli, Ms. Cannistraci, Miss Bugden, Ms. Shick, Miss Budny, and Mr. McNitt.
By grade level, the least nominated class in February were the juniors, with 21 nominations.
The seniors went from second to third with 32 nominations.
Then the sophomores had moved up a place with 36 nominations.
And the freshmen took the game again with a total of 42 nominations.
The trend of girls outnumbering guys in nominations happened again, with 47 males and 84 females.
So what was most likely to get a student nominated for the Golden Raffle? The reasons stay the same, but still, the most common reasons were for academic improvement, followed by a positive attitude. The third reason why people got nominated was for helping to clean up after the Snowball.
About the Writer
Haydn Loudenslager, Staff Writer
Hello my name is Haydn. I am a junior who wears five watches for no reason at all. I spend most of my time at home playing video games, listening to music...