FBLA Enjoys Hershey Despite No Wins
Seven members of Tyrone's Future Business Leaders of America attended the Hershey conference on April 3rd through the 5th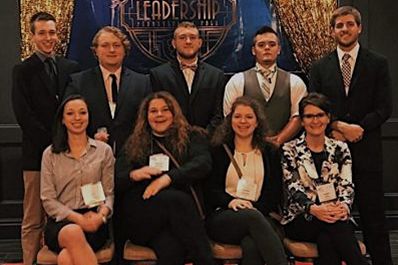 Hang on for a minute...we're trying to find some more stories you might like.
Tyrone's Future Business Leaders of America made a mark in the regional competition this year with an astounding eleven members moving on to states in Hershey.
Although nobody placed to move on to nationals members of the club had fun in Hershey enjoying Chocolate World, the outlets, and the food provided by the Hershey Lodge.
Senior Sean Dawson enjoyed the trip.
"It was fun to explore and do my own thing as well as hangout with my friends on this trip, plus it was fun to get to know new people," said Dawson.
Members test in a category of their choosing to stay in the club and to have the chance to move on to states.
The FBLA Club, advised by business teacher Angela Kline and finance teacher Garrett Tanner, is one of the more popular academic clubs at Tyrone High School.
According to their website, the Future Business Leaders of America is an organization for students preparing for careers in business or who are just simply interested in learning more about the free enterprise system. FBLA helps students develop leadership abilities, and prepare for entry into, and advancement within, a business or business-related occupation.
To get in on the fun next year consider joining the club and be sure to test in a category that suits your interest for the best chances to move on to states.
Unfortunately not all of the eleven members were able to attend, but listed below are the following members seven members that went to the Hershey conference last month:
Jonathan Clifton

– Journalism

Sean Dawson

– Health Care Administration

Kendall Gardner

– Hospitality Management

Nathan Hormell

– Hospitality Management

Colby Pannebaker

– Sports and Entertainment Management

Makayla Ritchey – Public Speaking II
Noah Welsh

– Sports and Entertainment Management
Of these seven members senior Makayla Ritchey was the only one not to have to take a test and instead partook in a speaking competition where she wrote an original speech about how she has portrayed leadership in her life.