Eagle Eye Teacher of the Week: Mrs. Christie Taylor
This week's Eagle Eye Teacher of the Week is Mrs. Christie Taylor.  Mrs. Taylor teaches Health Tech classes and is the advisor for HOSA.  She helps to organize the bollod drives, the annual Polar Plunge fundraiser and works hard to arrange many hospital visits and internships for her health tech students.
EE: Why did you become a teacher?
CT: I became a teacher because I love medicine and we need good health care workers.
EE: Why did you choose the subject you teach?
CT: I started out in medicine as an RN, this opened the door to teaching others about health care.
EE: What's your favorite thing about teaching at Tyrone?
CT: I enjoy the students, the teachers, the administration, and staff. Coming to teach at Tyrone doesn't seem like work on most days. 🙂
EE: What are some of your favorite hobbies and interests?
CT: I enjoy running, spending time with my family, playing volleyball, and shopping.
EE: What is some good advice you've been given as a teacher?
CT: Be flexible, what may work one year, may not work another year. Humor is a wonderful tool. It can help your stress and others. Keep laughing. Don't take yourself too seriously.
EE: What's the hardest part of teaching and why?
CT: The hardest part of teaching has been since COVID has happened. Teachers, students, and administration have been challenged with online learning with Zoom to teaching hybrid. It has been difficult at times to keep students up-to-date with longer quarantines.
EE: What are some jobs held before you got into teaching?
CT: I delivered newspapers in high school, worked as a private duty nurse aide while in nursing school, and as the classroom mentor in the Health Tech classroom while working as an RN at HealthSouth Rehabilitation Hospital in Altoona (now Encompass Health).
EE: What is something that students might be surprised to find out about you?
CT: I love riding motorcycles. I took the motorcycle safety course when I finished my teacher certification classes. It is the best way to get to school. You can't be in a bad mood after a ride.
EE: What's your favorite movie?
CT: There are too many to choose… I do appreciate a good comedy or Disney movie. (Currently, I am all about "Encanto" and "Ron's Gone Wrong."
EE: What is your spirit animal? Why?
CT: I would say a honey bee. I am always busy, doing different activities, and flying around.
View Comments (3)
About the Contributors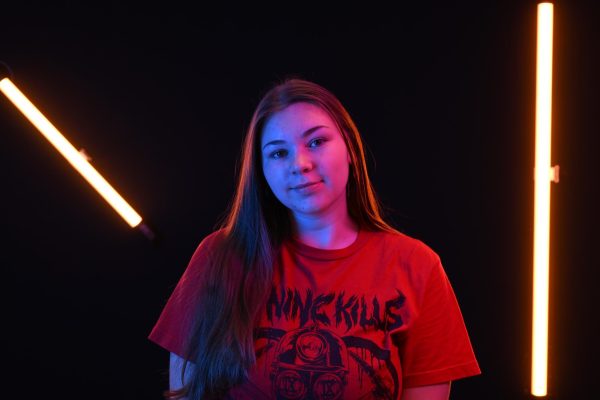 Fabria Brower, Staff Writer
Fabria typically publishes the Teacher Of The Week articles here at Tyrone, but outside of her life in the Eagle Eye room, she enjoys spending time out...