Eagle Eye Teacher of The Week: Mr. Mike Kraft
Mr. Kraft has always had a fun and outgoing personality, which is exactly why he was chosen as teacher of the week. Whether he is leading his classroom in a math lesson or coaching volleyball, Mr. Kraft always pushes his students and players to be the best they can be.
Read below to learn more about Mr. Kraft
Eagle Eye: Why did you become a teacher?
Mike Kraft: The impact you can have mentoring youth is extremely rewarding. To know you've played an important role in the life of another person is gratifying. We get the opportunity to make an impact every day as a teacher.
EE: Why did you choose the subject you teach?
MK: Math involves having critical thinking skills. I've always enjoyed making sense of numbers and how they can be applied to the world in which we live. Helping students make those connections makes the subject enjoyable to teach.
EE: What's your favorite thing about teaching at Tyrone?
MK: I feel valued by both my colleagues and students.
EE: What are some of your favorite hobbies and interests?
MK: I am the Director of the Horseshoe Volleyball Club so that consumes a great deal of my time outside of teaching. If I'm not teaching or coaching, I am probably outside camping, fishing, or doing something outdoors with my dog, Emmett.
EE: What is some good advice you've been given as a teacher?
MK: Relationships are the key to motivating others. Without building that relationship first, it can be hard for others to trust and communicate with you. You can be an expert on your content, but you have to make meaningful connections with students so they want to work hard for you.
EE: What's the hardest part of teaching and why?
MK: It is probably the dynamic of a classroom. Every kid comes from a family that has a different set of beliefs, customs, and values. Being able to understand every student's family background is challenging, but getting everyone to respect each other's beliefs, customs and values is probably the hardest challenge.
EE: What are some jobs held before you got into teaching?
MK: I worked in a restaurant and served as a daycare and summer camp instructor while I was in college. I also spent 5 years as a college volleyball coach at Saint Francis University and Juniata College.
EE: What is something that students might be surprised to find out about you?
MK: I've been to over 50% of the states in America.
EE: What's your favorite movie?
MK: Almost any Adam Sandler movie.
EE: What is your spirit animal? Why?
MK: I've never been asked this question before. I would probably have to say a wolf because the leader of the pack is always protecting, watching and aware of its surroundings. I think that the leader of a wolfpack has a great deal of responsibility and requires a lot of work in order for things to go well. The leader of the pack has to make tough decisions and look out for the best interests of the group. I can relate to this role a wolf can play in the pack.
Leave a Comment
About the Contributor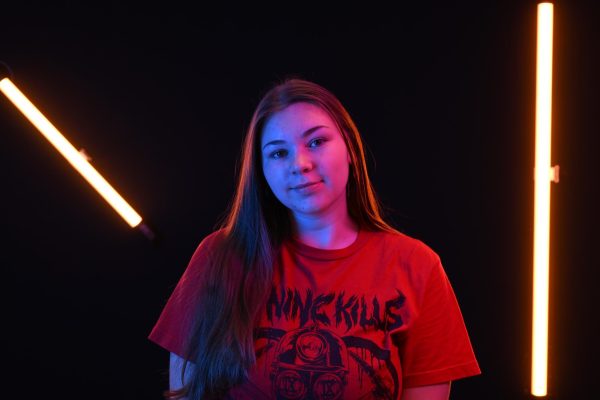 Fabria Brower, Staff Writer
Fabria typically publishes the Teacher Of The Week articles here at Tyrone, but outside of her life in the Eagle Eye room, she enjoys spending time out...