Eagle Eye Teacher of the Week: Chris Shedd
Mr. Christopher Shedd is a well-known TAHS math teacher who is certain to bring a smile to students' faces. With his wise words of advice, sarcastic jokes, and dedication to his job, Mr. Shedd most definitely deserves the title of Teacher of the Week.
Eagle Eye: Why did you become a teacher?
Christopher Shedd: "I wanted to change out of my previous career (running large groups of restaurants) and I ran into a former math teacher of mine, Mr. Kann, at the Huntingdon County Fair. He asked what I was doing these days, and I said I was trying to figure out my next career. He replied, "You should become a teacher!" Six months later I re-enrolled at Penn State Main in Science Education."
EE: Why did you choose the subject you teach?
CS: "Kind of by accident! My degrees are in Earth Space and Environmental Sciences, but the head of accreditation at Penn State saw my transcript with all the math and math-related courses I had taken my first time at Penn State as a Mechanical Engineering student and suggested that I take the math certification in addition to my science certification tests."
EE: What's your favorite thing about teaching at Tyrone?
CS: "The students and my co-workers. Great kids, great adults, especially my Math Department colleagues. Couldn't survive this job without their help and support."
EE: What are some of your favorite hobbies and interests?
CS: "Hiking, kayaking, skiing, cooking, watching sports, traveling, mowing the lawn."
EE: What is some good advice you've been given as a teacher?
CS: "Have good routines, be consistent, make connections with your students, laugh as often as you can! Oh, and "there's no room for sarcasm in the classroom!"
EE: What's the hardest part of teaching and why?
CS: "Constantly trying to keep up with the non-teaching parts of the job. So tired of looking at computer screens for hours a day. The job has gotten tougher every year."
EE: What are some jobs held before you got into teaching?
CS: "I paid most of my expenses for engineering school by working in restaurants in State College. I spent 20+ years in the restaurant world. Bartending, waiting tables, cooking, meat and fish cutting, baking, running free-standing fish/steakhouse restaurants, and eventually running 10 high-volume Italian brick oven restaurants in the Philadelphia and NJ area, supervising 1200 employees and 10 management teams."
EE: What is something that students might be surprised to find out about you?
CS: "I'm 97! I still have a track record at my high school. I've lived in Italy. My wife won an Emmy! I skied in June in Vermont. I've flown a twin-engine airplane."
EE: What's your favorite movie?
CS: A Beautiful Mind, Pulp Fiction, Alien, LA Confidential, Apocalypse Now
EE: What is your spirit animal? Why?
CS: "Probably an owl. Old, wise bird with pretty good night vision! lol…and I can call them into my yard at various times throughout the year. My wife used to love to sit on our lawn and listen to them."
Leave a Comment
About the Contributor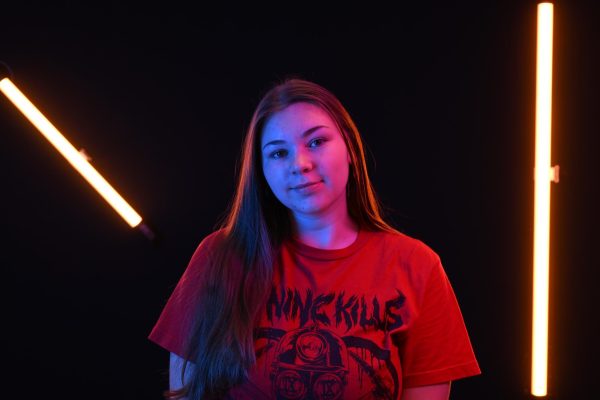 Fabria Brower, Staff Writer
Fabria typically publishes the Teacher Of The Week articles here at Tyrone, but outside of her life in the Eagle Eye room, she enjoys spending time out...