Deskevich Returns to Co-Advise Speech Team
Seventeen students plan to attend the Fall Meet on Tuesday, November 19 in Williamsburg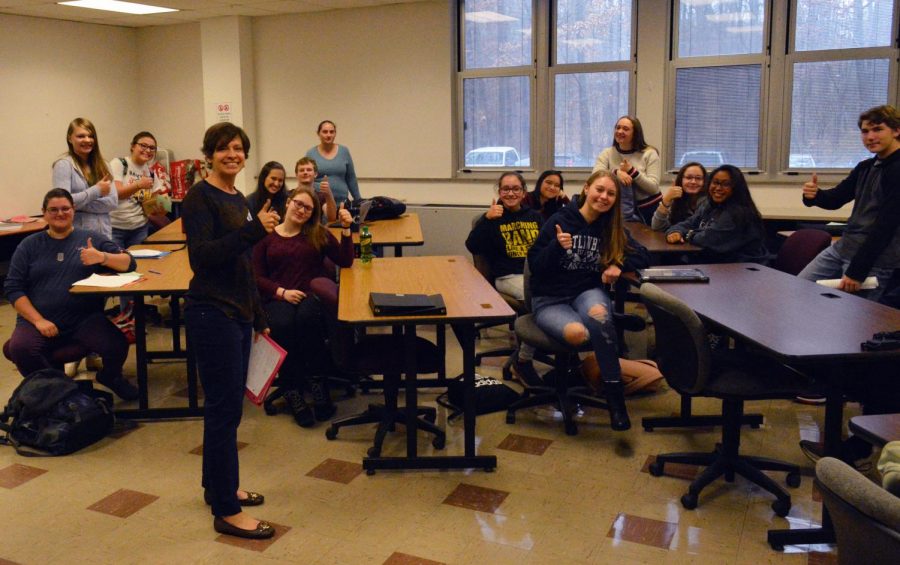 Former Tyrone High School English teacher Leah Deskevich resigned her teaching position this summer, but will return to Tyrone as the Speech Team Co-Advisor because she "didn't really want to leave."
"I love Tyrone, and Mr. Everhart is a genius," Deskevich said. "When I told him I was leaving, he suggested I find a way to stay involved. Speech Team was the obvious choice."
Deskevich coached the team for two and a half years before taking maternity leave and then a leave of absence.
"
I love Tyrone, and Mr. Everhart is a genius. When I told him I was leaving, he suggested I find a way to stay involved. Speech Team was the obvious choice."
— Mrs. Leah Deskevich
According to Deskevich, the decision to leave the classroom after 15 years of service was "a hard one but the right one for [her] family." She believes Speech Team will give her the community and challenge she enjoys.
"Seventeen students plan to attend the Fall Meet on Tuesday, November 19 in Williamsburg," said Deskevich, "I was praying for 20, so this is fantastic!"
Ms. Gabby McLarren, co-advisor and quiet study hall supervisor, agrees.
"Speech Team is a great way to grow as a speaker and a student," said McLarren, "I'm happy we have new and old members joining us this year."
Speech Team competes in the Central PA Speech League, with competitions in November, February and April. Team members present an original or a published work twice at each competition. Speeches are judged on eight speaking standards, and awards are given to the highest individual scorers and team.
"We meet at least once a month during advisory in Room 121, near the nurse's office, and use Google Classroom to share texts and materials," Deskevich said. "Interested students can join us for the Winter and Spring meets. We have room!"
About the Photographer
Broc Zimmerman, Staff Videographer
Hi, if you don't know already I am the Broc Zimmerman. I play football. I am also a senior. This is my second year of video production. I took this class...