Alumni Spotlight: Depression Doesn't Skip Anyone
2013 Tyrone High School grad Charles Wilson-Adams uses his Instagram account to promote mental heath awareness
When Charles Wilson-Adams and his family moved to Tyrone from Philadelphia while he was in middle school, he quickly earned a reputation as an outstanding athlete in both basketball and football. In high school, Wilson-Adams was an all-state defensive back and a key member of the 2011 Golden Eagle football team that finished second in the state.
But it was Tyrone varsity track and field coach Tony Yaniello who introduced Wilson-Adams to the sport that would earn him his highest athletic honors and a spot in Tyrone sports history.
Yaniello first saw Wilson-Adams at basketball practice, and was impressed by his athleticism. Even though Wilson-Adams had no track experience, Yaniello thought that he could be an outstanding jumper and invited him to track practice to give it a try.
Wilson-Adams accepted the invitation and found the sport that would become his passion. By his junior year, he developed into the state's best jumper, winning the 2012 PIAA state championship in the high jump with a school-record of 6'10. His record still stands today.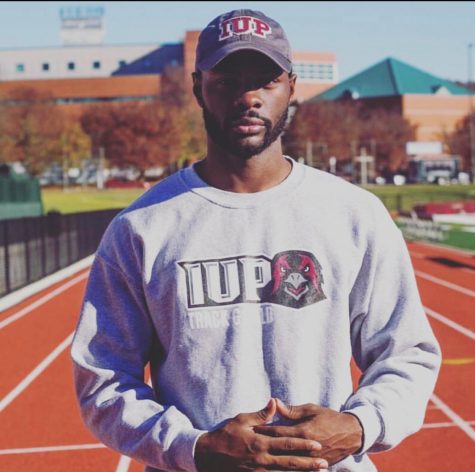 At the start of his senior year, Wilson-Adams was on an all-time high. He hoped to repeat as state high jump champion and attend the University of Pittsburgh on a track scholarship in the fall. Wilson-Adams seemingly had it all; not someone most people would expect to suffer from depression.
But during his senior track and field season, Wilson-Adams tore his LCL and meniscus while long-jumping.
As a result of the injury, his chances of landing a track scholarship to Pitt disappeared and life began to take a dark turn for Wilson-Adams.
"Depression doesn't skip anyone. It doesn't matter what color you are, how tall you are, how smart you are, how athletic you are. Depression hits everybody," said Wilson-Adams.
During the summer following his graduation from TAHS in 2013, Wilson-Adams scrambled to find another college to pursue his academic and athletic career. However, his GPA wasn't high enough to get into the schools he wanted, so he had a hard time and felt very pressured. Depression became a constant battle.
"Depression manipulates you into thinking that things can't get any better. You have to go against that and tell yourself those things aren't true. By doing that, you're choosing health. You're saying 'I can do this' and realizing that 'there is a purpose to my life," said Wilson-Adams.
At the time, most of the people around him didn't know that Wilson-Adams was depressed, but from his experience working with athletes, it didn't surprise Coach Yaniello to learn that Wilson-Adams had been struggling with depression in high school.
"When an athlete works that hard to achieve a goal and then have it taken away, it absolutely can lead to depression. That thrill you had, and work you had put into it, disappears and you are at odds with yourself on what to do," said Yaniello.
"
Depression doesn't skip anyone. It doesn't matter what color you are, how tall you are, how smart you are, how athletic you are. Depression hits everybody"
— Charles Wilson Adams
However, by the fall of 2014 Wilson-Adams life was getting his life back on track. He enrolled at Indiana University of Pennsylvania, studying communications and having success as a member of the IUP track and field team. But just as things were getting better, Wilson-Adams had another life-changing experience with mental illness.
"In college, I was going through depression myself. At the same time, one of my best friends was also [dealing with depression] but I never spoke up about what I was going through, and neither did he. I grew up in a Christian church so I resorted back to that, but my friend didn't go down the same path."
Tragically, his friend lost his battle with depression and took his own life.
"He committed suicide on the same day I was baptized. So instead of celebrating [my baptism], I was mourning his death… It really hit me hard knowing I could have spoken up and possibly helped," said Wilson-Adams.
Partially as a result of this incident, and partly from his own experiences with depression, Wilson-Adams decided to make the issue of mental health awareness part of his life's mission.
One thing he's done recently is to create a social media platform to increase mental health awareness and help others. Along with a few of his friends, he created an Instagram page called "I Chose Health," which posts messages encouraging positive mental health and awareness.
With its focus on body image and perfection, Instagram can have a negative impact on mental health, so Wilson-Adams decided to create an account dedicated to positive mental health messages.
The account name "I Chose Health" came from a conversation he had with his friend before he took his life.
"I tried to open up to him a little bit, but we came from different backgrounds, so I thought he never understood what I was going through. One day, I was speaking negatively and he asked, 'Why do you choose to be so upset? Why do you choose to be negative? Why do you choose not to live a positive life? From that point on, after finding out that he committed suicide, I always just thought to myself, 'Okay, I'm just going to choose health.'"
The "I Choose Health" Instagram page features posts that educate others on the importance and awareness of mental and physical health.  While the Instagram page is the public face of "I Choose Health," Wilson-Adams hopes to expand the organization in the future.
"The main focus [of I Choose Health] is to spread awareness about mental health. A lot of the time people have a hard time giving their friends advice, and that's okay, but most of the time someone just needs to know that you're there. We just really pushed the idea of starting a conversation. Starting a conversation means just being there for someone when they need you," said Wilson-Adams.
If you would like to see these positive messages on your Instagram feed, follow @ichosehealth215.
Click the sideshow below to see some recent posts.
View Comments (1)
About the Contributors
Elise Brooks, Staff Writer
Hi! My name is Elise Brooks and I'm a senior this year at Tyrone Area High School. This is my first, but also my last year in Eagle Eye. This year I am...
Cate Baran, Editor in Chief
Hi! My name is Cate Baran.  I'm a senior at Tyrone High. This is my third year of Eagle Eye. I play three sports: softball, swimming, and soccer. Outside...