DePiro Receives Support From Staff and Students
Staff members Jessica Hetrick, Sandra Mitchell, Susan Orlosky, Julie Rice, Rebecca Barlett, Kristy Fochler, and Eric Vonada formed a committee for Adam DePiro, seventh grade social studies teacher who was recently diagnosed with cancer.
With the help of all the staff, the committee works together in organizing fundraisers to help raise money to support DePiro in his battle with cancer.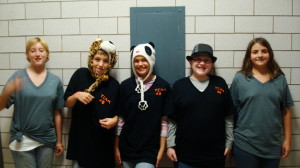 A fundraiser was held for middle school students giving them the chance to pay five dollars to wear a hat on Friday, September 28, 2012. All the funds raised were donated to DePiro.
In addition to the hat fundraiser, five seventh graders, Cierra Catron, Perry Gillespie, Brittany Weaver, Harley Stimer-Heywood, and Brittany Gill, decided to make t-shirts that read "Team AD" on the front and "DePiro is our hero" on the back.
"I think the fundraisers will help exceed in teacher's expectations of students and their ability to stand up for a good cause," Stimer-Heywood, seventh grader, stated.
Lori Weakland, secretary and mother of Harley Stimer-Heywood, and Sadie Jackson, senior, also had the t-shirts on.
The t-shirts were worn the same day as hat day. The group of staff members also came up with the idea to sell silicone bracelets reading "DePiro is our hero." The bracelets are $1 for the half inch bracelets and $2 for the one-inch bracelets.
"…The 'DePiro is Our Hero' bracelets make me feel like Lance Armstrong. There are not enough words to express the gratitude that my family and I have for the students, their families, the faculty and staff of Tyrone," DePiro expressed.
DePiro was told of all the support when his first health care treatment was due.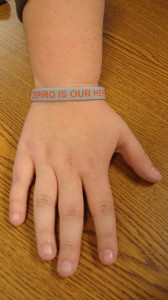 "I was actually receiving support from the school since the day of my surgery.  Members of the faculty came to see me in the hospital and I decorated my room with the cards that the students made for me.", says DePiro, "I'm overwhelmed by the support that the student body and faculty have given me this year and I am humbled by the generosity of all those involved.
View Comments (2)
About the Contributor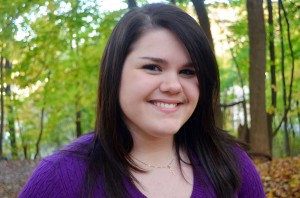 Sadie Jackson, Editor
Sadie is a senior at TAHS. She enjoys all types of music-- mostly Christian and country. She also likes spending time with her friends. Sadie has been...